European genetic structure, study du jour [Yann Klimentidis' Weblog]
Posted: 26 Nov 2008 06:28 PM CST
Yet
another one
.
As usual,
Dienekes
and
Razib
have talked about this one on their blogs.
Anything new or particularly interesting?
within-Germany resolution (see figure, labeled by Razib)
big sample, of nearly 6000
LCT (lactase), HERC2 (eye color and hair color) and HLA (immune function) regions stood out as most highly correlated to the North-South gradient.
they frame the importance of this in relation to picking appropriately matched controls in case-control studies
Ethnicity/country origin of subjects is taken as where the sample was obtained. This is unfortunate since more detailed information on the origin of each subject could have enabled better resolution.
Posted: 26 Nov 2008 02:40 PM CST
Recently went drinking with a FOB (friend of the bayblab) and, as usual with him, he turned pretty red in the face. Apparently
approximately half of people of Asian decent have this reaction to the consumption of alcohol
, which has been nicknamed the "Asian glow".This glow shows up really well in this particular FOB, because he is half Caucasian, providing a pale, pastey canvas for his inebriated glow.
I had heard that the Asian glow was the result of a
variant or deficit of the acetaldehyde dehydrogenase (ALDH2) enzyme
. This enzyme is responsible for the conversion of acetaldehyde into acetic acid. Acetaldehyde is the first breakdown product of ethanol produced by alcohol dehydrogenase and it is this nasty compound that causes all of the "Asain glow" symptoms which also include: nausea, headaches, light-headedness, an increased pulse, occasional extreme drowsiness, and occasional skin swelling and itchiness. It is also responsible for the scurge of mankind; the hangover.
Worse still for the previously mentioned FOB is that the
east asian drunken red face variant of ALDH2 is associated with increased risk of alcoholism related cancer
. This is likely because acetaldehyde is carcinogenic and would be in increased concentrations if you posses a less active ALDH2 enzyme.
If you're smart and paying attention you'd remember that the FOB is of both Asian and Caucasian decent. So what about his Caucasian allele? How could an enzyme deficiency be domninant? Well, the
origonal paper on the subject explain demonstrates that ALDH2 exists as a homotetramer and that the Asian allele has a markedly reduced half-life and in a cell expressing both versions of the subunit passes on it's reduced stability to the resulting heterotetrameric complex
. So presumably the increased acetaldehyde is not due to decreased specific activity of ALDH2 in some Asians but due to lower stability of the active enzyme complex. Therefore this allele is dominant.
Nature Education's Scitable: For Science Students Everywhere [DNA Testing Blog]
Posted: 26 Nov 2008 02:23 PM CST
Nature Education recently launched the beta for Scitable (pronounced sight-ə-bəl, as in a "citable source"). Described as "a collaborative learning space for science undergraduates," the project's goal is two-fold: to foster and cultivate students' interest in science, and to provide an accessible source of current scientific knowledge to science students worldwide. According to Publishing Director Vikram [...]
How to make a sandwich [Bayblab]
Posted: 26 Nov 2008 01:12 PM CST
McDonald's tries to
patent
the greatest thing since sliced bread. Click picture to enlarge.
(h/t:
Greg Laden
)
Next up: The Gravy Genome [genomeboy.com]
Posted: 26 Nov 2008 01:10 PM CST
Jerry Dodgson, professor of microbiology and molecular genetics at Michigan State University, remarked: "The time is right to sequence the turkey genome. The sequence of the chicken genome is known and continues to be refined. The scientific community has established many of the experimental resources that make this project feasible." He added: "Pyrosequencing on the Roche GS-FLX platform and assembly of the sequence using the publicly available chicken sequence as a reference represents a very cost-effective approach to deliver the turkey genome sequence rapidly to the wider scientific community."
Something else to be thankful for while you're high on tryptophan and watching bad football.
Tackling a Hairy Beast II [The Tree of Life]
Posted: 26 Nov 2008 12:52 PM CST
For all out there who love ciliates and their relatives, you might want to check out the second paper to come out of my
Tetrahymena thermophila
Genome Sequencing Project for which the preprint is available in
BMC Genomics
.
In this project we have been sequencing, annotating and finishing the macronuclear genome of this lovely organism. Like other ciliates
Tetrahymena
has two nuclei and two nuclear genomes - the macronucleus (MAC) and the micronucleus (MIC). The MIC is analogous to germ cells in animals -- it is sort of a genomic repository for sexual reproduction. After sexual reproduction, the MIC genome is processed to generate the MAC genome which is then used in an analogous way to soma cells in animals (the MAC is the site for most/all gene expression in
Tetrahymena
). I have been the PI on this project which was supported by grants from NSF and NIH and was a collaboration involving TIGR (where I used to work), Stanford, UCSB, JCVI (which subsumed TIGR a few years ago) and the
Tetrahymena
research community.
Our first paper on this project was
published in PLoS Biology
two years ago. I have written about it previously
here
.
The new paper describes further work on the MAC genome including finishing many of the chromosomes (which was done spectacularly by Luke Tallon and Kristie Jones), sequencing and analyzing a larger number of ESTs, refining the annotation (coordinated by Mathangi
Thiagarajan
), and some other analyses. The new paper was led by Bob Coyne, who, with Barb Methé took over coordinating the work at TIGR/JCVI after I moved to UC Davis a few years back. I think they did a stellar job (ni biases here).
Note - I took the title of the posting 'Tackling a Hairy Best" from an
NIH press release
that was put out when we got the grants for this project.
Attack of the Robo Lizards from Davis [The Tree of Life]
Posted: 26 Nov 2008 11:04 AM CST
Shinerama dumps Cystic Fibrosis [Bayblab]
Posted: 26 Nov 2008 10:36 AM CST
This is one of those rare occasions where
Carleton University and Ottawa make the news
, but unfortunately it's for all the wrong reasons. If you haven't heard already, the frosh week shoe shining activity "shinerama" where funds are collected for cystic fibrosis research by Carleton U (and Ottawa U) students, has ditched Cystic Fibrosis as the recipient. Now I'm not necessarily opposed to raising money for other diseases but the students' association decision was based on the fact that cystic fibrosis isn't "inclusive" enough, apparently it only affects the "white man". What a twisted idea. Apparently we need our diseases to hit all sexes, ethnicities and socio-economic status equally. Of course that's ludicrous because pretty much every major disease be it diabetes, cancer, heart disease, etc has some bias. And to top it all, the council's decision was full of inaccuracies since
CF
affects males and females equally, and caucasian does not mean "white" in the strictest sense, not that it really matters. It makes me wonder: Are the rare spontaneous genetic disorder the only disease to hit everyone equally? I mean even pathogens, think of those that cause AIDS or dysentery, do not infect equally across those arbitrary lines.... Does anyone know any "PC" disease?
MyGeneticist.com debuts! [The Gene Sherpa: Personalized Medicine and You]
Posted: 26 Nov 2008 09:00 AM CST
JCB's Latest Online Feature: Biosights [The Daily Transcript]
Posted: 26 Nov 2008 08:05 AM CST
The Journal of Cell Biology is one of my usual reads. Recently they've been adding extra features to their site that I really appreciate. A few months back they started a podcast, Biobytes, and now recently they have launched Biosights, a series of on online videos about research published in JCB.
Incidentally the first clip from Biosights is on Allan Hall's latest paper describing how Cdc42, one of the coolest G-proteins in the cell, controls the axis of the mitotic spindle. (Yes Polarity - that same topic that I was telling you about a couple of days back.)
Here is the first eddition of Biosight:

Read the rest of this post...
|
Read the comments on this post...
A Thanksgiving mash-up [Discovering Biology in a Digital World]
Posted: 26 Nov 2008 07:20 AM CST
I suppose I should have expected this.
I thought it might be fun to see what the databases had to say about turkeys.
Technorati Tags: Thanksgiving,, turkey,, mash-up

Read the rest of this post...
|
Read the comments on this post...
This Guy Needs a Reality Check [Sciencebase Science Blog]
Posted: 26 Nov 2008 02:30 AM CST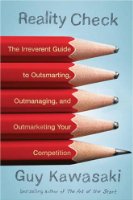 Welcome fellow twitterers, don't forget to follow me on twitter, before you read on…
In the current economic climate, the "Downturn" as the BBC has so brazenly logo-ized it, when banks are running and companies are being crunched like so many cornflakes eaten during the breakfast news, tech companies need all the good advice they can get. This is where Guy Kawasaki, entrepeneur, evangelist, venture capitalist, blogger, and guru can help.
Kawasaki's latest book - Reality Bites - sucks up to no one, but teaches you to suck down, it takes no bull shiitake and overturns much of the received wisdom of Si-Valley. Moreover, Reality Check is the self-professed "irreverent guide to outsmarting, outmanaging, and outmarketing your competition. If Bubble 2.0 is about to burst, then irreverent advice of this kind could mean the difference between a startup never getting off the blocks before reality bites.
Now, I've never quite got the hang of speed reading, boredom, tiredness, and aching eyeballs will often mean I take ten times as long as the average reader to plough through a lacklustre book.
With Kawasaki it has been very different. It has been a long read for me (and I'm still not quite finished as I write this review), but that's most definitely not because of boredom or tiredness, it's because I've been
in
and out
of my chair
as he
triggers new thoughts
and ideas with almost
every paragraphI've been in and out of my chair as he triggers new thoughts and ideas with almost every paragraph. Each page I turn I come across a new idea that I cannot wait to work on, write about, implement, or even just use to create my latest tweet. And I'm not even running a tech startup, if that's how I feel reading his words, then I suspect anyone hoping to storm the market with a new gadget, program or their latest paper will get even more out of it than me.
If there were some way to read and work at the same time without compromising either, I'd have Guy sitting on my desk every day. His ideas seem to transcend the jargon and bozo explosions of the day, anyone - individual entrepreneur, blogger, fledgling CEO, head of department - would do well to keep him close to hand while they build their business plan, work on their prototype and develop their team.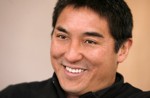 All of what Kawasaki discusses is about people whether he's explaining the top ten lies of venture capitalists or how old geezers can capture or enrapture the youth market, whether he's telling you about how late he came to blogging or how creating a community is not just the latest fad, something scientists are beginning to recognise.
And, that's no bull shiitake.
You can visit Guy Kawasaki's website here (and read his blog), get the latest true rumours via his Truemors site, or check out aggregated headlines from top news sources and blogs in almost every field of endeavour you care to mention at Alltop.com, and yes, of course, there is a science.alltop.com
This Guy Needs a Reality Check
New Blog on the Block: What's New in Life Science Research [The Daily Transcript]
Posted: 25 Nov 2008 05:03 PM CST
Scienceblogs launched a new blog featuring a few of the Scienceblog regulars and a few new bloggers including Hsien-Hsien Lei, whom you might recognize as the master mind behind Eye on DNA.
The focus of this group effort is to discuss recent developements in 4 research areas: stem cells, cloning, biodefense, and genetically modified organisms.
Read the comments on this post...
Video of a Meteorite Crashing over Western Saskatchewan [The Daily Transcript]
Posted: 25 Nov 2008 04:21 PM CST
Incredible video of a falling meteor as seen from Edmonton:
The meteor eventually crashed near the Alberta-Saskatchewan border. Here another video from the CBC and AP:
Read the rest of this post...
|
Read the comments on this post...
Biologists as tinkerers [The Daily Transcript]
Posted: 25 Nov 2008 12:22 PM CST
If you like to tinker you might think that the career for you would be engineering, computer science or even an academic career in the physical sciences. However one option that may have not crossed your mind if the life sciences. Every day in the lab we try to dream up of innovative ways inorder to tease apart the molecular components of life, whether it be "bucket biochemistry", microinjecting cells, or constructing new genes inorder to test our current hypothesis. We tinker with life.
So what type of activities do we enjoy we don't play around in the lab? Well the following video was taken in the lab on such an occasion. Over beers at the local pub we the Rapoport lab members challenged our neighbors (the Blenis lab) to a fry-off - as in which lab could deep-fry the most esoteric food item. What did the Rapopot lab decide to deep fry?
Beer foam.
And so one day after happy hour we experimented. The plan was to combine beer and liquid nitrogen inorder to end up with a solid beer foam mass that could be dipped into beer batter and then be dipped in a deep-fryer.
Here's the a video of the second instalment of our quest for deep fried beer foam:
Read the rest of this post...
|
Read the comments on this post...
You are subscribed to email updates from The DNA Network
To stop receiving these emails, you may unsubscribe now.
Email Delivery powered by FeedBurner
Inbox too full? Subscribe to the feed version of The DNA Network in a feed reader.
If you prefer to unsubscribe via postal mail, write to: The DNA Network, c/o FeedBurner, 20 W Kinzie, 9th Floor, Chicago IL USA 60610