Early Birds and Night Owls [SciScoop Science Blog]
Posted:
Studies have indicated that self-described morning people have shorter circadian rhythms than self-identified night owls. This means that morning people sleep through their peak hour of sleepiness, so they wake up feeling refreshed. Evening types usually wake up right around their peak hour of sleepiness, so they may have high levels of melatonin and feel groggy. No wonder it's tough to rouse them.
Sciencebase Siblings [Sciencebase Science Blog]
Posted: 10 Nov 2008 06:00 AM CST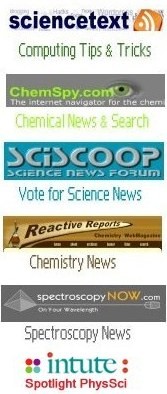 Just a quick reminder of the various sites now associated with the Sciencebase Science Blog:
Over on http://www.sciscoop.com we have an active science news forum, recently discussing everything from the morning banana diet scam to space elevators.
On http://www.sciencetext.com you can find computing tips and tricks, hacks for making your blog or website work better for you and your readers and the occasional editorial on the latest research into social media, the web, computing, and related areas.
Free trade magazines, white papers, and other resources can be found at http://sciencebase.tradepub.com, including free subscriptions to Nature Reviews Drug Discovery, The Scientist, and BioTechniques, all journals to which I have contributed.
On http://www.reactivereports.com, http://www.chemspy.com, and http://www.chemweb.com - chemistry news, molecular views, and chemical interviews
Under the Intute Spotlight - http://www.intute.ac.uk/sciences/spotlight - the latest physical sciences news, and news with a spectroscopic, cheminformatics, or diffraction connection can be found at http://www.spectroscopynow.com
That's probably enough to be going on with, do check out the Sciencebase sibling sites, there are lots of free resources to read, download, and even listen to. But, if that's not quite enough, you can find Sciencebase on social media, networking and bookmark sites, including twitter, digg, delicious, facebook etc. Usually available as username sciencebase or as David Bradley.
Meanwhile, if you are in the US and you spot Sciencebase syndicated on Reuters, Biospace, USAtoday.com, Chicago Sun Times, mysanantonio.com, Livestrong, Atlanta Journal Constitution, Austin American Statesman, coxohio.com, or discovery.com
Proposal to divert the mighty Mississippi [Earth & Sky Podcast]
Posted: 09 Nov 2008 04:11 AM CST
Hear about a plan to divert the Mississippi River, in order to rebuild the coast ravaged by Hurricane Katrina and create a more sustainable coastal delta.
This posting includes an audio/video/photo media file: Download Now
You are subscribed to email updates from The Science Network
To stop receiving these emails, you may unsubscribe now.
Email Delivery powered by FeedBurner
Inbox too full? Subscribe to the feed version of The Science Network in a feed reader.
If you prefer to unsubscribe via postal mail, write to: The Science Network, c/o FeedBurner, 20 W Kinzie, 9th Floor, Chicago IL USA 60610