Red-hot Alchemist [Sciencebase Science Blog]
Posted: 18 Aug 2008 07:00 AM CDT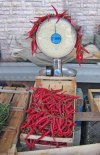 In my ChemWeb column, The Alchemist, this week:
Van Gogh was two-timing his canvas, the Alchemist learns this week, thanks to novel X-ray studies of a seemingly innocuous piece called Patch of Grass, which hides a woman's face beneath its green and peasant landscape.
Professional wine tasters and vintners with a penchant for pepping up their plonk should have something new to worry about thanks to the development of an electronic tongue for detecting adulterated wines and those labeled with the wrong vintage.
In biochemistry, sex and sleep turn out to be inextricably entangled, at least in the world of the lab technician's favorite nematode worm, Caenorhabditis elegans.
Traditional Chinese Medicine is heavily marketed despite a lack of clinical evidence of efficacy of many of the remedies. However, The Alchemist hears of a traditional remedy for allergy that, toxic components removed, could work to prevent life-threatening peanut allergy.
The world of red hot chili peppers wouldn't be so hot if it were not for nibbling insects and a fungus that infects the chilis.
Finally, a million-dollar grant to get the blood pumping will for the next five years fund research into how the brain controls blood pressure and could eventually lead to new treatments for hypertension and cut deaths from cardiovascular disease.
a
Shipping lanes moved to save whales [Earth & Sky Podcast]
Posted: 18 Aug 2008 04:08 AM CDT
In a first for the U.S., shipping lanes have been moved to avoid collisions with whales. Hear David Wiley, of the Stellwagen Bank National Marine Sanctuary, who led the science to protect whales from the nearly 5,000 ship transits each year.
This posting includes an audio/video/photo media file: Download Now
Recent decades of global warming? Sun not cause, says expert [Earth & Sky Podcast]
Posted: 17 Aug 2008 04:08 AM CDT
The sun has been implicated by some in driving climate change over the past few decades. But Caspar Ammann of the National Center for Atmospheric Research in Boulder speaks of evidence that the sun is not to blame for a warming Earth.
This posting includes an audio/video/photo media file: Download Now
You are subscribed to email updates from The Science Network
To stop receiving these emails, you may unsubscribe now.
Email Delivery powered by FeedBurner
Inbox too full? Subscribe to the feed version of The Science Network in a feed reader.
If you prefer to unsubscribe via postal mail, write to: The Science Network, c/o FeedBurner, 20 W Kinzie, 9th Floor, Chicago IL USA 60610