Honey bee mystery unsolved after two years [Earth & Sky Podcast]
Posted: 06 Aug 2008 04:08 AM CDT
Bees began disappearing from commercial hives in the U.S. two years ago. In 2007, beekeepers lost 37 percent of their colonies. Honey bees are still leaving their hives and not returning. And scientists still aren't sure why.
This posting includes an audio/video/photo media file: Download Now
Anti-aging gene could extend lifespans [Earth & Sky Podcast]
Posted: 05 Aug 2008 04:08 AM CDT
"If things work the same in people as in mice, and you had a perfect drug, you might imagine that you could extend life span by 20 or 30 year," said MIT biology professor Lenny Guarente. Hear more about genes that might extend the human life span.
This posting includes an audio/video/photo media file: Download Now
Fair Use Rights [Sciencebase Science Blog]
Posted: 18 Jul 2008 07:00 AM CDT

Intellectual property, copyright, creative commons, copyleft, open access… These are all terms high on the science and other agenda these days. For example, public-funded scientists the world over are calling for research results to be available free to them and their peers for the public good and for the good of scientific advancement itself. Librarians likewise are also interested in the fullest dissemination and sharing of knowledge and information, while user-creators and the new breed of citizen journalists that are the result of the Internet Age are also more liberal in their outlook regarding the proprietary nature of creative works.
On the other hand, traditional publishers, database disseminators, and the commercial creative industry consider the investment they put into the creation and distribution of works as a basis for the right to charge readers and users and for profit-making. Meanwhile, adventurous organisations that are not necessarily beholden to shareholders, to other commercial concerns, and to learned society memberships, are experimenting with alternative business models with varying degrees of success.
One aspect of copyright that arises repeatedly in any discussion is what is considered fair use and what kind of usage warrants a cease & desist order from the owner of copyright in their works.
Now, Warren Chik, an Assistant Professor of Law at Singapore Management University, is calling for a reinvention of the general and flexible fair use doctrine through the simple powerful elevation of its legal status from a legal exception to that of a legal right.
Writing in the International Journal of Private Law, 2008, 1, 157-210, Chik explains that it is the relatively recent emergence of information technology and its impact on the duplication and dissemination of creative works - whether it is a photograph, music file, digitised book, or other creative work - that has led to a strengthening of the copyright regime to the extent that it has introduced "a state of disequilibrium into the delicate equation of balance that underlies the international copyright regime".
Copyright holders have lobbied for their interests and sought legal extension to the protection over "their" creative works. But, the law in several countries has undergone a knee-jerk reaction that is not necessarily to the benefit of the actual creator of the copyright work or of the user. Chik summarises the impact this has had quite succinctly:
The speedy, overzealous and untested manner in which the legal response has taken has resulted in overcompensation such that the interests of individuals and society have been compromised to an unacceptable degree.
For some forms of creative works, such as music and videos, there has emerged a protectionist climate that has led to the creation of double protection in law the form of the digital rights management (DRM) system and anti-circumvention laws that allows copyright owners to prosecute those that attempt to get around such restrictive devices. This, Chik affirms, has "inadvertently caused the displacement of the important fair use exemptions that many consider the last bastion for the protection of civil rights to works."
Chik points out that this tightening of the laws run counter to the increasing penetration of electronic forms of storage and communication, the borderless nature of the Internet and the invention of enabling technologies such as the so-called "Web 2.0″. This in turn is apparently leading to a general social shift towards more open collaborative creativity, whether in the arts or the sciences, and what he describes as "the rise of a new global consciousness of sharing and participation across national, physical and jurisdictional borders."
Whether that view is strictly true or not is a different matter. At what scale will those who like to share a few snapshots among strangers or a small-scale collaboration between laboratories realise the need for a more robust approach to their images and data? For example, if you are sharing a few dozen photos you may not see any point in protecting them beyond a creative commons licence, but what happens when you realise you have tens of thousands of saleable photos in storage? Similarly, a nifty chemical reagent that saves a few minutes in a small laboratory each week could take on global significance if it turns out to be relevant to cropping a synthesis in the pharmaceutical industry. Who would
not
wish to
receive full credit
and monetary
compensation for their
creative works in such
cases? Who would not wish to receive full credit and monetary compensation for their creative works in such cases?
Chik proposes not to destroy or even radically overhaul the present copyright regime, instead he endorses a no less significant reinvention of the general and flexible fair use doctrine through the simple powerful elevation of its legal status from a legal exception to that of a legal right, with all the benefits that a legal right entails. This change, he suggests could be widely and rapidly adopted.
Currently, he says, fair use exists formally only as a defence to an action of copyright infringement. But, DRM and other copyright protection threaten this defence and skew the playing field once more in favour of copyright holders. "Fair use should exist in the law as something that one should be able to assert and be protected from being sued for doing," Chik says.
Such a change will render copyright law more accurately reflective of an electronically interconnected global society and also acknowledge the importance and benefits of enabling technologies and its role in human integration, progress and development.
Chik, W. (2008). Better a sword than a shield: the case for statutory fair use right in place of a defence. International Journal of Private Law, 1(1/2), 157. DOI: 10.1504/IJPL.2008.019438
a
Active galactic nuclei with laser guide star adaptive optics [yan.blog]
Posted: 16 Jul 2008 10:10 AM CDT
I found this presentation on Google Video: Active galactic nuclei with laser guide star adaptive optics. It is from the AAS 212th Meeting. The presenter is Claire Max.
Adaptive optics on the current generation of 8 - 10 meter telescopes yields spatial resolutions in the near-infrared comparable to those of Hubble at visible wavelengths. Laser guide stars are now making these high spatial resolutions available over a large fraction of the sky. I will describe several areas in which these advances are being applied to AGN science: 1) measurement of black hole masses in nearby galaxies from kinematics of stars and gas; 2) study of the spatial distribution of stellar populations and dust in galaxies at 0.5 < z < 1.5, and 3) tests of the relationship between galaxy mergers and AGN activity. I will conclude with a discussion of the planned Next Generation Adaptive Optics system at the W. M. Keck Observatory, outlining the expected improvements in AGN science with this new system.
A timelapse of the Paranal laser guide star [yan.blog]
Posted: 16 Jul 2008 09:54 AM CDT
The authors of the time lapse movie are Stéphane Guisard, Valère Leroy and Jean Pajus. It is fun to see the PARSEC laser pointing to different directions of the universe over the night. I wonder what the night sky would look like in Hawaii, where there are several guide star lasers.
This is a time lapse movie made from individual images taken with a Canon 20Da camera and a 8mm lens. This accelerated movie shows a complete night at Paranal Observatory starting at sunset and finishing at dawn. That night, the Laser Guide Star Facility was in use and its yellow sodium Laser beam left its footprint on our movie. The laser beam creates a Laser Guide Star in the high atmosphere, 90 km above us. This 'bright' artificial star helps the adaptive optics system located in the main telescope, to measure and correct the distorsions of the images produced by the atmosphere, in real time and several hundreds of times per second.

The bright part of the Milky Way, containing the galactic center, is disappearing to the west on the left hand side of the movie. The Andromeda galaxy is visible also, as a diffused and elongated spot crossing the sky just above the domes. One can also see the Pleiades and "upside down" Orion constellation rising (remember this movie is done from the Southern hemisphere) together with the other half of our Milky Way . Finally the moon lightens the morning sky just before sunrise.
Unnatural Approach to Diabetes [Sciencebase Science Blog]
Posted: 16 Jul 2008 04:15 AM CDT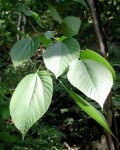 As regular readers will be aware, I'm very skeptical of crank claims. Usually, these will claim to cure everything from premenstrual cramps to cancer by way of motor neurone disease and ingrowing toenails, all of them, with one pill. Forgive my flippancy, but the claims of many of those touting such panaceas usually beggars belief.
But some offer quite convincing claims for treating, but not necessarily curing, a specific illness with something novel. One such email arrived recently from a public relations company representing a company selling a herbal supplement. The release discusses the potential of an extract of mulberry leaf to prevent concentration spikes in the blood sugar of patients with Type 2 diabetes mellitus.
This disorder, which is on the increase in the developed world as obesity incidence rises, is characterised by insulin resistance, relative insulin deficiency and hyperglycemia (raised blood sugar levels). Changes in diet and more exercise can often ameliorate the effects in the early stages, but medication and insulin are usually needed in the long term. The main problem is the sharp rises and falls in the concentration of glucose in the blood, which puts a severe strain on the organs, in particular the heart.
The email I received, had the subject line "Type 2 diabetes: a look at natural alternatives to prescription drugs" and seemed innocuous enough. It mentioned the FDA's pronouncements on diabetes drugs and the need to tighten up on their safety and then went on to highlight mulberry, a natural product that is now being marketed as Glucocil, which can purportedly help prevent those hazardous blood sugar spikes.
According to the press release, mulberry has been used for generations in Chinese medicine and some Indian foods, is showing great promise for Type 2 diabetes sufferers. After seven years of research and development, a medical researcher and scientist from China, Lee Zhong, has discovered a proprietary mulberry leaf extract that has been shown in numerous clinical trials to markedly lower blood sugar levels in Type 2 diabetics, helping them achieve a healthier diet and lifestyle. I asked Zhong for a few details about his work, the efficacy of this food supplement and possible medical issues associated with its use. You can read more about the study in the latest issue of Reactive Reports.
Zhong explains that, "Mulberry leaf
is
a natural
α-glucosidase inhibitorMulberry leaf is a natural α-glucosidase inhibitor. α-glucosidase
inhibitors do not lower blood sugar levels, they reduce and delay the abrupt elevation of blood sugars after meal, therefore stabilize blood sugar levels. π-glucosidase inhibitor drugs, such as Acarbose, are found to 1) reduce diabetic cardiovascular risks 2) be good for weight management 3)
prevent pre-diabetics to become type 2 diabetics." Zhong and colleagues have published positive results on pure mulberry extract in the journal Diabetes Care, see reference.
It all sounds reasonable so far. But, what is not clearly mentioned in the press release is that Glucocil is not simply mulberry extract. Rather it is a blend of different ingredients:
Mulberry leaf extract
Cissus sicyoides (Insulina) leaf extract
α-lipoic acid
C. quadrangularis extract
Banaba leaf extract
Chromium polynicotinate
vitamin B1, B6, B9 (folic acid), and B12
I asked Zhong about the presence of that chromium salt, as chromium deficiency has long been suggested to be a factor in the development of diabetes. "Chromium was not included in the extracts that used in our published clinical studies (or the efficacy tests)," he told me, "The ingredients used in the final Glucocil formula have records of many years' safe human usage." He adds that, "Glucocil was not developed overnight. We had thousands of tests and have plenty scientific evidence to support the product."
That's as maybe, but, I think he missed my point, it's not the safety of the formulation that concerns me, although chromium picolinate has been linked to liver toxicity (Eur J Intern Med. 2002, 13, 518-520), it's how it can be marketed as a natural product when it so obviously contains a rather non-natural ingredient in the form of that chromium salt. It seems especially odd given that chromium itself is thought to have an effect on diabetes, although that's as yet unproven.
Aside from the clinical trials and tests carried out with mulberry in isolation, as far as I know, no double-blind placebo-controlled trials have been carried out on the mixed formulation that includes the chromium salt, which has variously been used as a "natural" slimming aid without serious proof of efficacy. Chris Leonard, Director, Translational Research and Technology at Memory Pharmaceuticals, points Sciencebase readers to what he describes as a "thoughtful and well-referenced discussion on chromium and diabetes.
Pharmacologist and toxicologist Sanjeev Thohan, Research Director at drug discovery company Exelixis, adds that chromium picolinate is quite distinct from the hexavalent form of chromium made infamous by the Erin Brokovich issue. He points out that there have been some clinical trials conducted within the last year that use different derivatives of chromium picolinate and that these are close to finishing and will make their data available in the next year or two. He adds that one must, "Remember that the bioavailability of the picolinate derivative and its action on the beta cells is what will determine if there is a positive effect on insulin. Insulin sensitizer drugs, I believe in some of the clinical trials, are being used with the chromium compounds to see the possibility of synergy." Thohan highlights an additional UK government PDF resource on chromium. The US government's PDF document on dietary recommendations for vitamins and trace elements also includes a section on chromium.
Zhong adds that, "This product is being marketed as a dietary supplement (not a food or drug) and is designed to assist those who are trying to manage their condition primarily through changes in lifestyle, primarily diet and exercise." But, to my mind, something with proven activity in such a potentially debilitating disease should not be marketed as a supplement. Consumers should be made aware of the dangers of diabetes and consult their doctor over possible treatments and outcomes.
Zhong tells me that the marketing does stress that potential users talk to their healthcare workers and that they should monitor their blood sugar carefully. However, one in ten, he concedes, don't necessarily do so. With diabetes on the rise, one in ten could turn out to be quite large numbers of people using an apparently potent supplement without any clear knowledge of what it might be doing to their bodies and without strictly monitoring the progression of their disease.
"Generally speaking, those who are most interested in this product are those who are newly diagnosed and are not on multiple meds as is the case with those who are more seriously ill," adds Zhong, "The typical Glucocil consumer is someone who is looking for more natural nutritional support."
Yes, there are problems with pharmaceutical products. But, maybe its time physiologically active herbal remedies were
brought under
the pharma umbrellamaybe its time physiologically active herbal remedies were brought under the pharma umbrella rather than being sold disguised as food supplements. Indeed, there are calls for this to happen in Europe and elsewhere. This way, not only would they gain acceptance or rejection quickly, but those that are truly effective and worthy, and safe, would reach the patients who really need them and lose the downy feathers of alleged quackery.
UPDATE: There'll be a post on the regulations debate on Sciencebase, July 23, so grab the site newsfeed to keep up to date or sign up here to get the item delivered by email.
Mudra, M., Ercan-Fang, N., Zhong, L., Furne, J., Levitt, M. (2007). Influence of Mulberry Leaf Extract on the Blood Glucose and Breath Hydrogen Response to Ingestion of 75 g Sucrose by Type 2 Diabetic and Control Subjects. Diabetes Care, 30(5), 1272-1274. DOI: 10.2337/dc06-2120
a
Unnatural Approach to Diabetes
Skepticality #081 - Alpha Kids - Interviews: Banachek, Mel Lipman & Lori Lipman Brown [Skepticality - Science and Revolutionary Ideas]
Posted: 15 Jul 2008 06:29 PM CDT
Continuing from last week's interviews recorded at the "Amazing Meeting 6" conference, Derek & Swoopy talk with secular lobbyist Lori Lipman Brown and her father Mel Lipman (both secular humanists with backgrounds in law and government). They also speak with mentalist Banachek, who has been responsible for putting more magic and mentalism on American television than any other magic consultant in the world. While the paths of these skeptics seem widely divergent, Derek & Swoopy learn that their common decision to further skepticism within their chosen professions illuminates many similar truthsâ
This posting includes an audio/video/photo media file: Download Now
Skeptics Guide #155 - July 9th, 2008 [The Skeptics' Guide to the Universe]
Posted: 12 Jul 2008 07:25 AM CDT
Interview with James Randi; News Items: Einstein Right Again, Conservapedia Denies Evolution, Controversial Chelation Autism Study; Special Report: Roswell 61 Years Later; Science or Fiction
This posting includes an audio/video/photo media file: Download Now
Posted: 11 Jul 2008 04:25 PM CDT
From The Particle Zoo, where you can buy subatomic particle plush toys.
Sadly, Photon looks not so nice for me.
via: CosmicVariance
Narrow linewidth laser with fiber Raman amplification [yan.blog]
Posted: 10 Jul 2008 03:15 PM CDT
We have a new publication online now: multiwatts narrow linewidth fiber Raman amplifiers. Basically, the paper shows fiber Raman amplifier can be used to amplify narrow linewidth laser to a useful power level, while linewidth keeping narrow. This would be a surprise to most laser researchers. In this specific report, we have obtained 4.8 W, ~10MHz 1178nm laser with 27dB gain and more than 10% efficiency. The tricks and reason are explained in the paper.
Skeptics Guide #154 - July 2nd, 2008 [The Skeptics' Guide to the Universe]
Posted: 05 Jul 2008 07:25 AM CDT
Interview with Dr Dean Edell; News Items: Darwin-Wallace Anniversary, Tunguska Remembered, Creationst Bill Passes in Louisana, Nanowire Battery, SGU on Youtube; Your Questions and E-mails: Collective Skeptics, Body Fruit; Randi Speaks: Speaker Cables; Science or Fiction
This posting includes an audio/video/photo media file: Download Now
You are subscribed to email updates from The Science Network
To stop receiving these emails, you may unsubscribe now.
Email Delivery powered by FeedBurner
Inbox too full? Subscribe to the feed version of The Science Network in a feed reader.
If you prefer to unsubscribe via postal mail, write to: The Science Network, c/o FeedBurner, 20 W Kinzie, 9th Floor, Chicago IL USA 60610