ISB 3: George Church and personal genomics [Discovering Biology in a Digital World]
Posted: 13 Oct 2008 03:30 PM CDT
Last week, while attending the ISB "DNA of Innovation" symposium in honor of Lee Hood's 70th birthday, I decided to try live-blogging for the first time. Unbeknownst to others in the audience, except my husband, I quietly typed away, collecting notes and uploading impressions.
But battery power has its limits, even when I have more notes to share. And despite all the fascinating speakers, I have notes enough to describe just one more.
The personal genome days have only just begun, but George Church is already looking into the future. In a true "Lee Hood style tour de force" Church talked about the convergence of the 'omes.

Read the rest of this post...
|
Read the comments on this post...
Melamine in the Global Food Supply [Sciencebase Science Blog]
Posted: 13 Oct 2008 11:00 AM CDT
While melamine in the mainstream media seems to have quietened down in the last few days, there are still a few of us in the blogosphere attempting to unravel the tangle.
I first reported in my melamine in milk article (September 17) how the news broke that babies in China were somehow being poisoned by a contaminant in their formula milk powder. The contaminant was identified as melamine, an organic compound high in nitrogen and specifically amine groups that can dupe protein test equipment into thinking a product is rich in protein when it is not. Of course, the addition of non-nutritional organic compounds may fool the machine, but it does not fool the body of anyone eating the substance in their food and they will either be poisoned if the compound is itself toxic or suffer malnutrition. Infants, one might expect, would be particularly susceptible as they usually rely on a single food stuff - formula milk - for all their dietary requirements if they are not being breast-fed.
Nephrologist Robert Weiss, whom I interviewed for a follow-up item on the melamine toxicity article, told me that it is common to test for proteins using a simple test that detects amino groups (proteins are composed of amino acids). "Many non-protein compounds contain amino groups also (melamine is just one of those compounds). Some tests for proteins also are positive with ammonia, nitrates, and urea," she says. "Unfortunately, none of these compounds can be used nutritionally speaking by animals or humans which ingest these compounds to build proteins. Therefore, these compounds have no nutritional value, are actually toxic and have no business being added to feed."
One might suspect that manufacturers of these compounds as well as manufacturers of feed have learned how to outwit the somewhat simplistic tests for proteins that regulators use. "In learning how to outwit the tests in the interest of making a buck they have endangered the global food supply," adds Weiss. It would be very interesting to know which companies are engaged in these practices or which are buying feed ingredients from companies engaged in such activities and so giving rise to the likes of the melamine contaminated food list. Perhaps this is simply an insidious symptom of the impending global recession, which is, as all recessions seem to be, founded on greed.
Weiss, who has ten years of experience in the pharmaceutical industry and is well aware of the chain of documentation required for drug production is "really amazed that we have less knowledge and control over ingredients and processing events in many of our foods." Either way, the issue must be investigated and brought aggressively to the attention of legislators as well as consumers.
Please spread the word using the Share button to forward this article by email to your friends and colleagues or to add it to delicious, digg, or facebook. Please also subscribe for free to the Sciencebase newsfeed for updates by RSS or email.
Melamine in the Global Food Supply
Chromosome 20 Involved in Male Pattern Baldness [Eye on DNA]
Posted: 13 Oct 2008 08:25 AM CDT
Consumers of genetic testing can now get more information on male pattern baldness from chromosome 20. A genetic test specific for hair loss is already on the market - HairDX. It examines CAG repeats in the androgen receptor gene (AR) on the X chromosome. According to Technology Review, in one study of 2,000 balding men and women, 1 in 7 Caucasian men had markers on both chromosome 20 and the X chromosome that increased their risk of baldness.
Lest you think baldness is a purely cosmetic concern, there is a link between male pattern baldness and increased risk of cardiovascular disease and insulin resistance. In 2000, the Physicians' Health Study found that "vertex pattern baldness is a marker for increased risk of coronary heart disease events, especially among men with hypertension or high cholesterol levels."
Interestingly, the HairDX website makes no mention of the link between hair loss and heart disease. Perhaps because they don't want to run into trouble for making any innuendos about the medical utility of their DNA test. However, with this bit of information in mind, I'm less likely to make jokes at their expense.
Photo credit: Helge Carlsen
Posted: 13 Oct 2008 08:24 AM CDT
Slate says to quit slagging your Mama's uterus:
It's easier—for parents, doctors, educators—to say an obese toddler has a slow metabolism than to teach the family better eating and exercise habits. Since 1970, childhood obesity rates have quadrupled. If fetal programming mattered a lot, adult obesity increases would lag years behind. But they don't. According to intelligence researcher James Flynn, the average IQ of the first wave of professional Asian-American immigrants was almost 10 points lower than that of white professionals; within one generation, the gap closed, suggesting that genes don't shackle the mind. As Malcolm Gladwell points out: "There should be no great mystery about Asian achievement. It has to do with hard work and dedication to higher education."
deCode Versus Arthur Caplan PhD. [The Gene Sherpa: Personalized Medicine and You]
Posted: 13 Oct 2008 08:18 AM CDT
In signals we trust [business|bytes|genes|molecules]
Posted: 13 Oct 2008 08:00 AM CDT
Bret Taylor has posted some graphics that he presented at the Future of Web Apps conference. The slides seem to explore the concept of signals in a virtual river of information, i.e. Friendfeed.
We've talked about trust and filters a bit in recent days and the slides, even in the absence of context of the entire talk, suggest some ideas about how we can try and find trusted sources of information. I will include the slide that makes the most sense to me
As I have said before, the challenge comes when we go beyond the first layer of connections that we have and traverse the graph of connections. I almost feel like we need an agent in the middle, continuously getting feedback and analyzing signals being sent from various nodes of an ever expanding graph, making the "keep this" or "discard this" decision.
So how can we leverage this for publications, references, and other forms of scientific information. Who is going to deploy these agents? Would love to know if anyone is thinking along those lines. Any librarians? In a way, the ability of applying filters comes in two flavors, from an individual-centric frame of reference, and from a query-centric frame of reference, and the latter is definitely something librarians can be involved with, especially given some of the platforms available today.
Dance, Scientists, Dance! [Bitesize Bio]
Posted: 13 Oct 2008 04:15 AM CDT
Have you heard: the 2009 AAAS Science Dance Contest is open for submissions:
Are you the sort of scientist who taps her toes while working in the laboratory? Didn't I see you pirouette on your way to the fume hood? You look like you're crunching data over there on the computer, but you're actually browsing 1980s music videos on YouTube. In fact, doesn't your entire scientific career feel like one big dance, like Pina Bausch's Rite of Spring, the Village People doing YMCA, or maybe Michael Jackson dancing with zombies in Thriller, depending on your mood?
Information can be found on the Dance Contest's home page, and the deadline is November 16, 2008. Entries however are entered simply by posting your dance to YouTube, followed by an email to GonzoLabs with your name, the title of your Ph.D. thesis, and the video URL link.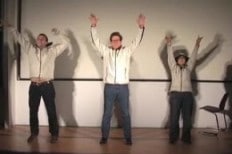 The Prize: Winners will be paired with a professional choreographer. With the choreographers' help, each winner will get to have a single peer-reviewed research article that they co-authored, including its aims, the hypotheses it tests, and its big-picture context, distilled into a dance. The four choreographers will collaborate to create a single four-part dance based on the winning research articles.
Winners will also be honored guests at the AAAS Annual Meeting in Chicago, Illinois, where, on 13 February 2009, you will have front-row seats to the world debut of the output — THIS IS SCIENCE — a contemporary dance interpretation of contemporary scientific research.
It's kinda neat. Check out last year's contest as well. Molecular biology was proudly represented.
Also noted in the report from last year's contest:
After the dance contest had ended and the judges had retreated to a quiet room to add up the scores, the reins of the event were handed over to the scientist-DJs for the main event, Molecular Code. [...]

The idea for Molecular Code started, Campregher says, when he listened with new ears to "all those common sounds produced on a daily basis in molecular biology labs—by devices such as sequencers, centrifuges, beta counters, luminometers, and so on. Since everything we hear is based on oscillating sound sources, it can be transformed into musical patterns and rhythms." It seemed like perfect material for a Milkcrate session, he says, "but an ABI Prism 310 DNA sequencer does not fit into a milk crate." So Campregher and Tomczak launched Molecular Code with a new constraint: Only lab sounds are allowed.
SEQanswers used as a reference in Nature Biotech paper! [SEQanswers.com]
Posted: 12 Oct 2008 09:59 PM CDT
Thought this was a worthy milestone in SEQanswers' existence. While reading the next-gen focus in , I came across the following table summarizing software packages: ...note small print. We're official people! Many thanks again to sci_guy and everyone else who contributed to the referenced above! Thanks also to Jay Shendure and Hanlee Ji for stopping by. Would love to see you both post!
Read more and join the community...
stem cell imaging research [Reportergene]
Posted: 12 Oct 2008 07:05 AM CDT
If you previously read and appreciated imaging of stem cells #1 and Luciferase and stem cells #2, and you started making your own experiment to address the regeneration conquest by such boring so-called stem cells, maybe you will interested to contribute to this symposium
Stem cells research: the role of imaging techniques
on Decembre 8 and 9 at the Timone hospital in Marseilles.
Registrations are open and more details are available at the following url:http://indico.cern.ch/conferenceDisplay.py?confId=42807 where you will find a provisional program of the workshop.
ISB symposium: update 2 [Discovering Biology in a Digital World]
Posted: 10 Oct 2008 02:07 PM CDT
The second speaker was Eric Davidson who talked about gene regulatory networks.
He works on sea urchins and showed us this amazing diagram that looked like a computer chip. The diagram describes the inputs and outputs of 50 genes during the first 30 hours of development.
And, it convinced me that systems biologists are developing their own language.
Read the rest of this post...
|
Read the comments on this post...
ISB symposium: update 1 [Discovering Biology in a Digital World]
Posted: 10 Oct 2008 01:12 PM CDT
The first talk was by Irving Weissman, one of the pioneers in immunology and stem cell research. He talked about the stem cells that form blood, also known as HSCs or hematopoietic stem cells.
Read the rest of this post...
|
Read the comments on this post...
Happy Birthday Lee Hood! Liveblogging the ISB symposium [Discovering Biology in a Digital World]
Posted: 10 Oct 2008 12:19 PM CDT
Right now, I'm sitting in the audience at a symposium on Science, Engineering, and Business at the Leading edge. The symposium is sponsored by the Institute for Systems Biology and it's Lee Hood's 70th birthday. Every speaker is beginning with a wish for a happy birthday.
I'll have updates, as I can, throughout the day.
Read the comments on this post...
Parkinson's disease, GFP, and seeing the video in JOVE [Discovering Biology in a Digital World]
Posted: 10 Oct 2008 12:07 PM CDT
Sometimes words fail me. Luckily, we have videos.
Many of you have probably read about Roger Tsien receiving the Nobel Prize this work for his work with the green fluorescent protein (GFP), but I bet some of you are wondering, why a jellyfish protein is worth a Noble Prize.
I think one of the best places to see why GFP is important, and also to see what some scientists do during the day, is JOVE, the Journal of Visualized Experiments.
Read the rest of this post...
|
Read the comments on this post...
You are subscribed to email updates from The DNA Network
To stop receiving these emails, you may unsubscribe now.
Email Delivery powered by FeedBurner
Inbox too full? Subscribe to the feed version of The DNA Network in a feed reader.
If you prefer to unsubscribe via postal mail, write to: The DNA Network, c/o FeedBurner, 20 W Kinzie, 9th Floor, Chicago IL USA 60610