Ayurvedic Heavy Metal [Sciencebase Science Blog]
Posted: 27 Oct 2008 07:00 AM CDT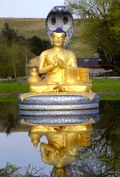 Ayurvedic medicines can contain dangerous quantities of heavy metals, including lead, mercury, thallium and arsenic, clinical toxicologists in London have warned. Writing in the International Journal of Environment and Health, they suggest that recent European legislation aimed at improving safety of shop-bought products will have little impact on medicines prescribed by traditional practitioners, imported personally from overseas or bought over the Internet.
The problem is that the heavy metals are not simply inadvertent contaminants of natural herbal products, they are added deliberately in order to supposedly return the body to health by rebalancing allegedly essential minerals. You can read the full article on this via AlphaGalileo.
There are wide and wild claims for Ayurvedic medicine including the ability to treat diabetes, flue, cancer, asthma, flu, acne, boils, diarrhoea, headaches, and that perennial of the alternative remedy market, sex drive. Unfortunately, Ayurveda, although ancient, is no panacea.
Some practitioners are hoping to modernise the Ayurvedic system. However, until it is more widely recognised among users that adding arsenic, lead, thallium and other potentially toxic heavy metals to so-called medicinal preparations is unacceptable, it will remain a practice more associated with the past than contemporary medicine.
Paul I. Dargan, Indika B. Gawarammana, John R.H. Archer, Ivan M. House, Debbie Shaw, David M. Wood (2008). Heavy metal poisoning from Ayurvedic traditional medicines: an emerging problem? International Journal of Environment and Health, 2 (3/4), 463-474
Skeptics Guide #170 - October 22nd, 2008 [The Skeptics' Guide to the Universe]
Posted: 26 Oct 2008 07:25 AM CDT
Interview with Phil Plait; News Items: Psychology of Superstition, Another Solar Breakthrough, UK UFO, Announcing SkepticBlog; Your Questions and E-mails: Blacklight Free Energy; Science or Fiction
This posting includes an audio/video/photo media file: Download Now
First humans arrived in China 1.7 million years ago [Earth & Sky Podcast]
Posted: 26 Oct 2008 04:10 AM CDT
A few stone tools and two front teeth, found decades ago, were recently dated by paleoanthropologist Rick Potts and his colleagues. It's evidence, said Potts, that humans arrived in China from Africa about 1.7 million years ago.
This posting includes an audio/video/photo media file: Download Now
You are subscribed to email updates from The Science Network
To stop receiving these emails, you may unsubscribe now.
Email Delivery powered by FeedBurner
Inbox too full? Subscribe to the feed version of The Science Network in a feed reader.
If you prefer to unsubscribe via postal mail, write to: The Science Network, c/o FeedBurner, 20 W Kinzie, 9th Floor, Chicago IL USA 60610