Nature on the US Elections - I couldn't Disagree More [adaptivecomplexity's column]
Posted: 26 Sep 2008 05:13 PM CDT
Nature columnist David Goldston love to bash the supposed political naivete of science community leaders, and this week is no different (subscription required):
Can anyone cite any decision that has been different because the current head of the OSTP, John Marburger, was not called 'Assistant to the President'? The prominence given to the recommendation about a title speaks volumes about the scientific community's hypersensitivity to perceived slights and its excessive insecurity about its stature, but it says almost nothing about governance...

The science community is blind to all this because of its insular focus. It tends to assume that decisions related to science policy primarily reflect attitudes towards scientists and science when in fact they are often driven by broader concerns. As a result, the two reports implicitly asked the wrong question about a president's politics. The best indicator about the future OSTP director's title may be a candidate's views on government secrecy, not science...

The reports seem to assume that having a well-known science adviser with good access to the president will mean scientists will be happy for the next four years. But that just isn't the case.
He's talking about the recommendation that the next US president rapidly appoint the Director of the OSTP (Office of Science and Technology Policy), and that the President restore this position to Special Adviser to the President status, a status which was withdrawn by Bush when he appointed his OSTP director.
Goldston is way off base here -
DNA Testing Explained, in Video [DNA Testing Blog]
Posted: 26 Sep 2008 02:18 PM CDT
DDC has recently added videos to its Science and Technology section. Science enthusiasts, students, and anyone interested in DNA testing can view a series of 7 short videos explaining the science of DNA testing. Through the use of 3D animation and live footage from DDC's laboratory, the video series explains how paternity testing works, and goes [...]
Sherpa's Plan: How you can join us! [The Gene Sherpa: Personalized Medicine and You]
Posted: 26 Sep 2008 02:04 PM CDT
Stopping Cancer Drug Resistance at the Source [adaptivecomplexity's column]
Posted: 26 Sep 2008 11:31 AM CDT
We have many great anti-tumor drugs that can do a fantastic job destroying the molecular insides of tumor cells. There is, however, a major catch: tumors have a nasty habit of become drug resistant. Such is the case with the breast cancer chemotherapeutic agent docetaxel. This drug can be effective at stopping breast cancer, but unfortunately many tumors are docetaxel-resistant. 50% of breast cancer patients receiving their initial course of chemotherapy are resistant to docetaxel, and it gets worse for patients who have already had chemotherapy - 70-80% of patients who have already received chemotherapy don't respond to this drug.
Administering docetaxel to resistant patients obviously wastes time that could be spent on other treatments. It also causes needless suffering of side effects. But is there some way to predict in advance who is going to be resistant? Or better yet, is there something we can do to eliminate docetaxel resistance altogether?
A Japanese group from the Japanese National Cancer Research Institute set out to tackle this problem, and their encouraging results have been reported in Nature Medicine. These researchers discovered a gene that makes breast cancer cells resistant to docetaxel, and they used that knowledge to knock out the source of docetaxel resistance. Although this study was largely confined to petri dishes and mice, cancer researchers can now use this result to identify patients who won't respond to docetaxel, and they are ready to test this new therapy target in real human cancers.
Blogging science to allow evidence-based decisions [Reportergene]
Posted: 26 Sep 2008 10:29 AM CDT
Concerning research blogging, I previously wondered how it will influence research dynamics and maybe kill some boring press releases. Little things compared to the fine writing skills of those guys. Read how they start:
Scientific discovery occurs in the lab one experiment at a time, but science itself moves forward based on a series of ongoing conversations, from a Nobel Prize winner's acceptance speech to collegial chats at a pub. When these conversations flow into the mainstream, they nurture the development of an informed public who understand the value of funding basic research and making evidence-based voting decisions. It is in the interests of scientists and academic institutions alike to bring these conversations into the public sphere.
Of course, they are talking about blogging. You can read the full article by Shelley, Nicholas and Tara at PLoS Biology.
Digital Biology Friday: Let's go on a treasure hunt! [Discovering Biology in a Digital World]
Posted: 26 Sep 2008 10:00 AM CDT
Let's play anomaly!
Read the rest of this post...
|
Read the comments on this post...
The $1,000 Genome by the End of 2009? [The Genetic Genealogist]
Posted: 26 Sep 2008 07:01 AM CDT
On December 30th, 2007, I blogged the following:
"[A]ffordable whole-genome sequencing is getting closer and closer every day (my prediction - which is based solely on my own educated guess - is that I will be able to sequence my entire genome for $1,000 or less by the end of 2009)."
It was pretty bold at the time, and I've since wondered if I was too optimistic, but now comes news that at least one other person agrees with my prediction.  Harvard professor and genetics researcher George Church - also principal investigator for the Personal Genome Project (PGP) - stated at two conferences, one last week and one this week, that by mid-October of 2008, 36-fold coverage of the human genome will be available for $5,000.  Church went on to say that the $1,000 human genome will be available by the end of 2009.
For more information about Church's statements, see "PGP to Publish Initial Data Sets Next Month As Church Predicts $1,000 Genome in 2009" (registration required) at In Sequence, and a blog post by John Moore of Chilmark Research who attended a "Personal Genomics" session at this year's EmTech (where Church reiterated the $5,000 and $1,000 hallmarks) .
The Personal Genome Project
At the same Yale University symposium where he discussed the crashing price of sequencing, Church announced that the PGP plans to publish data gathered from the "First 10″ (see here and here for the identities and backgrounds of the First 10) on October 21st at the PGP website.  These 10 volunteers will meet on October 20th to review their data and give permission to proceed.
Also, according to the In Sequence article, Church has indicated that "approximately 5,000 volunteers are currently 'queued up at the entrance exam stage'" for the next round of the PGP.
Disastrous Rumours [Sciencebase Science Blog]
Posted: 26 Sep 2008 07:00 AM CDT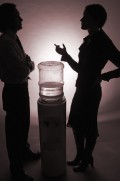 Gossip and rumours, they are the life force of cultural interaction. Just ask Guy Kawasaki, whose Truemors.com website took off last year, the hundreds of hacks who peddle the minutiae of celebrity lifestyles complete with the Photoshopped products of the paparazzi, or Perez Hilton. But, there is a serious side to rumours. In the midst of a natural disaster, terrorist atrocity, or war-torn location, the spread of rumours can mean the difference between life and death.
Informatics and e-business expert Judith Molka-Danielsen of Molde University College, Norway and public relations professional Thomas Beke of the University of Szeged, Hungary, explain how rumours affect how rational individuals assess risks, evaluate needs, and make decisions in disaster-affected environments. "Rumours play a confounding role in disaster management," the researchers say.
In order to understand how rumours might propagate under extreme conditions and how a strategy to contain rumours, or enable "useful" rumours, to spread might be developed they have developed a definition of "rumour". They point out that a rumour is essentially a message, but one with some degree of false content and a method of transporting the content. Two well-documented cases of technological and biological disaster events that led to loss of human welfare and economic losses and how the interplay of rumours in each cases underpinned the outcomes epitomise the definition: Chernobyl nuclear accident of 1986 and the tsunami that devastated Aceh in 2004.
Previous studies have suggested that immediately following a major disaster, "an atmosphere of fear, distrust and a scarcity of reliable information," develops, within which people are "eager to circulate emotionally negative news, even if that news is exaggerated." It is becoming apparent that relief agencies
could
use the
rumour mill to
spread accurate informationrelief agencies could use the rumour mill to spread accurate information to help those likely to be affected by a disaster rather than allowing the passive spread of misinformation to take place.
One might wonder whether such a positive rumour mill if it had been in place in China might have staved off the melamine in milk disaster that has been unfolding across Asia since well before the Beijing Olympics, now that tens of thousands of infants have been affected.
The researchers point out that no formal research has been presented to give relief coordinators a comprehensive understanding of the role of rumours in disaster management. There seems to have been no progress in this regard between major disasters and the relief efforts associated with them; erroneous and incomplete information exists in many real-world scenarios almost by default.
It is the imperfect state of information and its communication that are the fundamental preconditions in the birth of rumours. But rumours are something more than just misinformation and being misinformed. Rumours can have a viciously reinforcing and cascading affect on an existing state of falseness or existing communication problems. Disaster management agencies must therefore understand how to identify and address the phenomenon of rumours.
The team has developed a Rumour Object Enactment Model (ROEM), which defines the connections between different rumours and how they can affect the playout of relief work and human behaviour during a disaster. They used the cases of "Foot and mouth disease" (2001) and the "London underground bombings" (2005) for their detailed analysis to provide the underpinnings of their model.
Responsible agencies, the researchers suggest, could make use of their model to be able to identify how particular rumours start during a disaster and how they can be corrected or exploited to benefit those involved in the disaster.
It is essential for leaders, assistant groups or responsible authorities to understand the possible positive or potentially chaotic uses of rumours and the difficulty in predicting or controlling the boundaries of their dispersive domain. Decision makers with this knowledge will be better equipped to analyse the disaster environments and better able to respond to events in the presence of uncertainties.
Judith Molka Danielsen, Thomas Beke (2008). Rumours interplay in disaster management International Journal of Risk Assessment and Management, 9 (4) DOI: 10.1504/IJRAM.2008.020413
Sherpa's Plan: Lack of Qualified Education Sources [The Gene Sherpa: Personalized Medicine and You]
Posted: 26 Sep 2008 05:33 AM CDT
New CLC Genomics Workbench video: Assembling mixed data sets [Next Generation Sequencing]
Posted: 26 Sep 2008 04:32 AM CDT
Drew Endy talking at Davis tomorrow .... [The Tree of Life]
Posted: 25 Sep 2008 09:51 PM CDT
For those from UC Davis or the area who read the blog and have an interest in genetic engineering or synthetic biology or open science, you should come to this talk.
Genome Center Colloquium
Storer Life Sciences Endowment Presents
Drew Endy, PhD
Stanford University
"Post-Synthesis Genetics & Engineering Biological Simplicity"
Friday, September 26, 2008
10:00 a.m., 1005 GBSF Auditorium
For more on Drew Endy, well, use google of course or go here:
Science Faux Pas #3: Editirs in Chief [The Tree of Life]
Posted: 25 Sep 2008 09:43 PM CDT
You are subscribed to email updates from The DNA Network
To stop receiving these emails, you may unsubscribe now.
Email Delivery powered by FeedBurner
Inbox too full? Subscribe to the feed version of The DNA Network in a feed reader.
If you prefer to unsubscribe via postal mail, write to: The DNA Network, c/o FeedBurner, 20 W Kinzie, 9th Floor, Chicago IL USA 60610