Search Engine [SciScoop Science Blog]
Posted:
New research from Indiana University has found evidence that how we search for things, such as our car keys or umbrella, could be related to how we search for more abstract needs, such as words in memory or solutions to problems. "Common underlying search mechanisms may exist that drive our behavior in many different domains," explains IU cognitive scientist Peter Todd.
Top Trumps for Science Competition [Sciencebase Science Blog]
Posted: 10 Sep 2008 05:25 AM CDT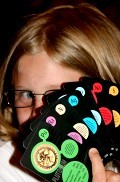 Something a little different today. A tale of family playtime, a poll, and a competition to win prizes from the RSC and the CentreoftheCell. So, on with the story…
This term, both my kids are learning about the elements at school. My daughter, who is still in primary school is learning about the ancient elements - earth, air, fire, water. While my son, who is half way through high school returned home with tales of electron shells and the elements of the periodic table.
It was, therefore quite timely that Royal Society of Chemistry press officer and Satrianialike, Jon Edwards, should send me a pack of Visual Elements Trumps. The cards follow in the classic tradition of the Top Trumps game, my friends and I collected and played when we were at school - trains, planes, automobiles and a few more sciencey ones, including dinosaurs were around at that time. There have been others since, including a spinoff from the defunct BBC TV show and magazine Tomorrow's World, Star Wars, and Harry Potter have also fallen under the trumping spell. And, of course, Pokemon and Digimon cards, which swept through playground a few years ago, are also based on the trump theme, albeit with a few more bizarre properties than top speed and height.
Anyway, the kids and I had a quick round of Elemental trumps. My daughter won, having quickly latched on to the notions of automatic atomic radius and ionistation ionisation energy. She was also rather intrigued by the idea of hydrogen gas having a boiling point. We all enjoyed the game, but obviously it's the educational and promotional value it may have for kids studying science and chemistry that underpin its production by the RSC. I have to admit the writing in the element description bubble is too small for me to see in dim light. With a magnifying glass, however, I can see that they have packed the main elemental essentials on to each card together with the RSC's well-known artistic images associated with each.
A related product on the science educational stuff market is Elementeo, which is a hybrid of sword & sorcery game and science, with a Sodium Dragon and Oxygen the Lifegiver. They're very tongue in cheek but there's not as much chemical information. So unless you're a science fantasy addict, I'd opt for the RSC game. Another variation on the theme is available from the WebElements shop and was developed by the University of Brighton. This version has more facts and also comes with approval (for what that's worth) from the Top Trumps people .
We then moved on to a game of Cell Trumps, produced by the Centre of the Cell at Queen Mary University of London, which arrived at roughly the same time as the RSC cards. However, a quick fan of the deck reveals them to be slightly simpler, swapping number in body for 1st ionisation energy, and number of their scientists working on the particular type of cell for atomic radius. But the kids coped, although my daughter favoured the slightly more esoteric Element Trumps over the cell. She was quite taken by the adipocytes having spotted the connection with the name of the fatty, alien Adipose characters from a recent Doctor Who episode.
Scientific Trumps seemed just right for introducing some scientific concepts in a fun way to kids at the higher end of primary school or even heading towards high school exams. They might even be inspirational to money-free undergraduates lacking beer towards the end of term, who knows? And, if you arrived here looking for science education materials check out the learn with Sciencebase page, which has links to various science project resources.
Card Competition
Which Top Trumps would you prefer?
Okay, here's the competition bit. What you have to do to be in with a chance of winning is to vote in the poll above and then give us a reason for your choice, and you could win a pack of the Cell Trumps and some other goodies or Elemental Trumps (winner's choice, sorry babes and cars not available).
Here's how:
First, vote in the poll.
Next, signup for the Sciencebase email newsfeed.
Then, use that exact same email address to email me or leave a comment here (email addresses are not published, they're just so I can check you subscribed). If you already subscribe to Sciencebase by email then please subscribe to sibling site Sciencetext.com instead and let me know. If you're already subscribed to both by email, then I'll be able to see from the subscriber lists, so either way, your subscribed email must be valid to qualify.
Finally, I'll pick the best ideas from the comments and emails and announce the winner in the next couple of weeks. Judge's decision will be final and if no entries come up to scratch then I reserve the right to throw my rattle out of the pram.
Top Trumps for Science Competition
Skepticality #085 - Why Magic is Important - Panel Discussion with James Randi and D.J. Grothe [Skepticality - Science and Revolutionary Ideas]
Posted: 09 Sep 2008 05:38 PM CDT
The hosts of Skepticality are recovering from their spectacularlyÂsuccessful "Skeptrack" events at Dragon*Con 2008: four days of livelyÂdiscussion featuring guests from some of the most prominent skepticalÂorganizations around the world. Included were James Randi and Dr. Phil PlaitÂfrom the JREF, Dr. Michael Shermer of the Skeptics Society, BenjaminÂRadford and D.J. Grothe from the Center for Inquiry, and Richard Saunders andÂcrew from the Australian Skepticsâto name only a few. For those who participated in this groundbreaking weekend, we look forwardÂto hearing your stories. For those who could not attend,ÂSkepticalityÂbrings you the first of several recordings from last week's panelÂdiscussions, beginning with James Randi and D.J. Grothe discussing "Why MagicÂis Important to Skepticism." This in-depth discussion of the entwined histories of magic andÂskepticism reveals how creating illusions can illuminate the truth.
This posting includes an audio/video/photo media file: Download Now
You are subscribed to email updates from The Science Network
To stop receiving these emails, you may unsubscribe now.
Email Delivery powered by FeedBurner
Inbox too full? Subscribe to the feed version of The Science Network in a feed reader.
If you prefer to unsubscribe via postal mail, write to: The Science Network, c/o FeedBurner, 20 W Kinzie, 9th Floor, Chicago IL USA 60610