Chili, capsaicin and cancer [Bayblab]
Posted: 02 Oct 2008 03:08 PM CDT
Speaking of the infamous journal "
Medical Hypotheses
",
a paper published in 2002
tried to make a link between spicy food and stomach cancer:
"
The 'hot' sensation produced by exposure to pepper is apparently due to two natural carcinogens: capsaicin in chili type peppers and safrole in black/white pepper. There are four cookeries in the United States that are noted for their high pepper content: Mexican-American, Cajun, white Creole, and black Creole. Each is largely confined to a single ethnic-cultural group which is concentrated in some counties. By use of county population and mortality data, significantly higher rates for stomach and liver cancer were found in counties inhabited by these four ethnic-cultural groups than in matched control counties.
"
Could it be true: chilies are carcinogenic? Might as well go to the source to find out, the country where chilies originated: Mexico. A
Mexican study
looking at associations between gastric cancers, chili consumption and H pylori infection found no independent association between the chilies and the cancer.
In fact there is mounting evidence that chilies may do more good than harm. Spices in general seem to make good candidates according to this recent review:
"
the potential of turmeric (curcumin), red chilli (capsaicin), cloves (eugenol), ginger (zerumbone), fennel (anethole), kokum (gambogic acid), fenugreek (diosgenin), and black cumin (thymoquinone) in cancer prevention has been established.
"
You don't have to look very hard to find that in fact capsaicin has potential to inhibit the proliferation of cells in
endometriosis
, inhibit the growth of androgen-independent p53 mutated
prostate
cells, kill
melanoma
cells etc... The mechanism seem to included
apoptosis
,
autophagy
and
ROS
generation.
All this to say, you can eat your chilies without worrying about cancer, the harm done is only temporary...
Posted: 02 Oct 2008 01:25 PM CDT
Operation Immortality is a project intended to collect and archive the very best of what humanity has accomplished by sending a digital time capsule of the human race, including messages from people around the world and DNA samples from some of our brightest minds, musicians, athletes and video game players.
Wait a second, dudes…aren't you forgetting someone?
RootsTelevision Turns Two [The Genetic Genealogist]
Posted: 02 Oct 2008 01:19 PM CDT
Yesterday, RootsTelevision.com celebrated its two-year birthday.  RootsTelevision was created by Megan Smolenyak Smolenyak and Marcy Brown in 2006, and currently contains programs in 25 different channels!  You can read more about the site and about its creation at Megan's Roots World.
You might remember that a few weeks ago I was interviewed by Dick Eastman for RootsTelevision.com, which was a terrific experience.  And don't forget, you can stay up-to-date on RootsTelevision.com's DNA Channel right here at The Genetic Genealogist!
NIH Increases Support for High-risk Large-impact Biomedical Research [Highlight HEALTH]
Posted: 02 Oct 2008 12:24 PM CDT
The National Institutes of Health (NIH) announced last week that it has increased support for high-risk, large-impact research by awarding 16 investigators the Pioneer Award; 2.5 million for each investigator over five years to pursue research in a variety of areas, including embroyonic development, autism, prions (responsible for the formation of amyloid plaques that lead to neurodegeneration) and malaria [1].
The NIH Director's Pioneer Award is a high-risk research initiative desiged to [2]:
… support individual scientists of exceptional creativity who propose pioneering — and possibly transforming approaches — to major challenges in biomedical and behavioral research.
First announced in 2004, 9 awards were presented in September 2004, 13 awards each were made in 2005 and 2006, and 12 awards were presented last year.
Several award investigators are focusing on nanotechnology, developing tools and materials to study design principles of the brain and improve the ability to study subcellular structure in three dimensions. Many of this years awardees are also interested in developing new imaging techniques or technologies to:
image and study proteins in living cells
link behavioral responses with neuronal activity
image electrical activity of the heart and identify those at risk of sudden cardiac death
Two Pioneer Award recipients will focus their research on gene regulatory networks, examining how gene networks that control cell function change over time in development, disease and evolution, and how intracellular gene networks allow microbes to carry out cognitive behavior.
Other awarded research proposals include:
exploring the role of random variables in gene expression during cellular development and specialization
integrating behavioral factors into models of the development and progression of infectious and chronic diseases
using groups of RNA molecules to modify cellular properties
using stem cells to examine the mechanisms of amyotrophic lateral sclerosis, a neurodegenerative disease of motor neurons
Also announced were 31 New Innovator Awards, which are restricted to early career investigators that have not held an NIH grant. The NIH Director's New Innovator Award is designed to address two goals: stimulate highly innovative research that has the potential for significant impact and support promising new investigators.
With the flat funding of biomedical research over the last five years, young investigators are competing with well-established researchers for limited resources and are disproportionately affected. Indeed, over the past 17 years, there has been a decrease in NIH regular research grants (R01), the original and oldest grant mechanism used by NIH, awarded to junior investigators [3].
The NIH Director's New Innovator Awards will provide 1.5 million for each investigator over five years. This is the second year that the NIH has made grants through the New Innovator Award program.
NIH Director Elias A. Zerhouni, M.D., who launched both programs during his tenure, said [4]:
Nothing is more important to me than stimulating and sustaining deep innovation, especially for early career investigators and despite challenging budgetary times. These highly creative researchers are tackling important scientific challenges with bold ideas and inventive technologies that promise to break through barriers and radically shift our understanding.
NIH funding
In July, a federal stimulus bill, principally for the war effort, provided the NIH with an additional $150 million for the end of fiscal year 2008 that ran through September. Nevertheless, NIH funding in 2008 failed to keep up with biomedical inflation for a fifth year in a row [5]. Although fiscal year 2009 started yesterday (October 1st), Research!America reports that new legislation extends NIH funding at its current 2008 levels through March 6th, 2009.
Progress in the life sciences is a major determinant of America's health, it's competitiveness and its standing in the world. NIH funding is imperative to help generate and maintain the biomedical workforce necessary to address the converging and daunting research questions of the 21st century. With the election just 5 weeks away, it is vitally important that you know where the presidential candidates stand on health care issues. The Kaiser Family Foundation has created an interactive web site where you can compare the candidates side-by-side. In addition, Research!America and partners present 2008 Your Candidates. Your Health., a website to educate voters on both presidential and congressional candidates.
Be informed so that you can make an educated decision.
Reference
Thank you
for subscribing by RSS or email. I work hard to make the articles on Highlight HEALTH engaging and I truly appreciate your interest and readership!
Other Articles You May Like
Big Event Tonight! [The Daily Transcript]
Posted: 02 Oct 2008 12:20 PM CDT
Some words come to mind, wacky, crazy and fun.
Give up?
Read the rest of this post...
|
Read the comments on this post...
IVF clinic takes a step in the right direction [Mary Meets Dolly]
Posted: 02 Oct 2008 10:42 AM CDT
I thought the day would never come when I would applaud the efforts of an IVF clinic. But here it is. Shady Grove Fertility Reproductive Science Center of Rockville, MD is the largest fertility and IVF clinic in the US. They have recently announced that they will be offering a holistic approach to infertility. From
MarketWatch
:
In a formal acknowledgement of the value of combining Western and Eastern medical techniques to optimize patient care, Shady Grove Fertility Reproductive Science Center, the nation's largest fertility and in vitro fertilization (IVF) center, announces the opening of a full-service holistic center in its Rockville headquarters offering complementary therapies such as fertility-focused acupuncture and yoga.

As of Oct. 1, Pulling Down the Moon -- founded in 2002 in Chicago through a similar alliance with Fertility Centers of Illinois -- will offer Shady Grove Fertility patients the option of supplementing their conventional treatment program with Integrative Care for Fertility(TM), its proprietary holistic approach that includes fertility yoga, acupuncture, massage, nutrition counseling, spiritual guidance and more.

"Our philosophy is that the best infertility treatment involves a truly holistic approach that maximizes potential for a successful conception and pregnancy through a range of therapies -- from ancient Chinese healing arts practiced for thousands of years, to the latest techniques developed by today's Western-trained researchers," said Tamara Quinn, who along with Elisabeth Heller, co-founded Pulling Down the Moon after both women succeeded at conceiving following a combined East-West treatment program. "When it comes to fertility treatment, the whole truly is greater than the sum of its parts."
If yoga and accupuncture means more women can get pregnant the old-fashioned way, creating human lives in the protection and love of a womb instead of in a laboratory petri dish, then I am all for it. If holisitic treatment means less embryos will be frozen indefinitely, or discarded, or chopped up for research, then I say, "You go Shady Grove!"
You know our society is upside down when nutrition and exercise are considered "alternative treatment" and making human beings in a dish and then putting them in the deep freeze is considered "traditional":

"The logical next step for us is to offer a full array of fertility-specific holistic services under our roof through this alliance. As a premier clinical research facility committed to advancing the science of fertility treatments, Shady Grove Fertility has a responsibility to ensure that complementary fertility treatments are carefully considered as part of the care next to traditional fertility technologies."
Yikes!

Twisted Tree of Life Award #2: Science Friday on the Five Kingdoms [The Tree of Life]
Posted: 02 Oct 2008 09:56 AM CDT
Well, I love Science Friday. I listen to
podcasts
of it now almost every day when I bike to work. It is a brilliant show, covering a wide range of science and science related topics in depth. Plus it is freely downloadable in a variety of formats. And they have a
great website
too. But every once in a while they get something a bit wrong. Yesterday, on my way home from a new introductory biology class we are teaching at Davis on "The Tree of Life" (which I will write more about later), I was listening to a Science Friday about Fungi (
Science Friday Archives: The Fabulous Fungi
). And unfortunately, in the introduction,
Joe Palca
started off with a pretty outdated discussion of the tree of life.
When you ask people to name the kingdoms, most people get the big ones, animals, plants, bacteria. Some people may even come up with the protists. But there is one more. Here's a hint. Yeast are part of it. So are shitakes. Are you getting it? Well the answer is fungi.
Yes, they are in fact referring to the Whittaker "Five Kingdoms" tree of life, which is no longer in use. (I am placing an image here from my
Evolution Textbook)
where we talk in Chapter 5 about the history of various trees of life that have been used. The figures from our book are available for free at the book site)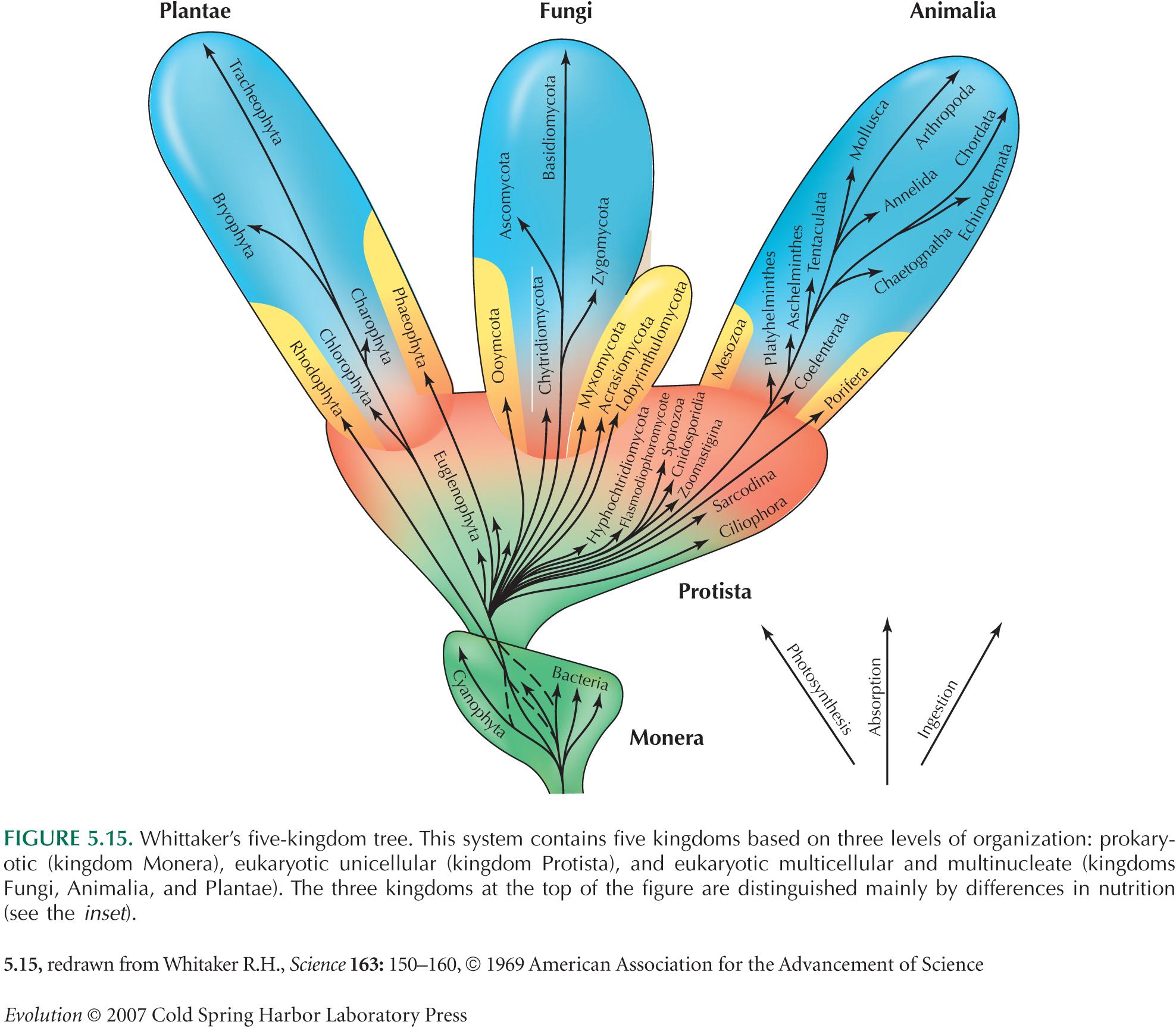 Today we talk about the Three Domains (Bacteria, Archaea and Eukaryotes) and within each of those domains, they are many lineages (which are sometimes referred to as kingdoms). But the five kingdom concept is done and gone. The modern tree looks more like the following (which is an adaptation for our book of a tree by Baldauf).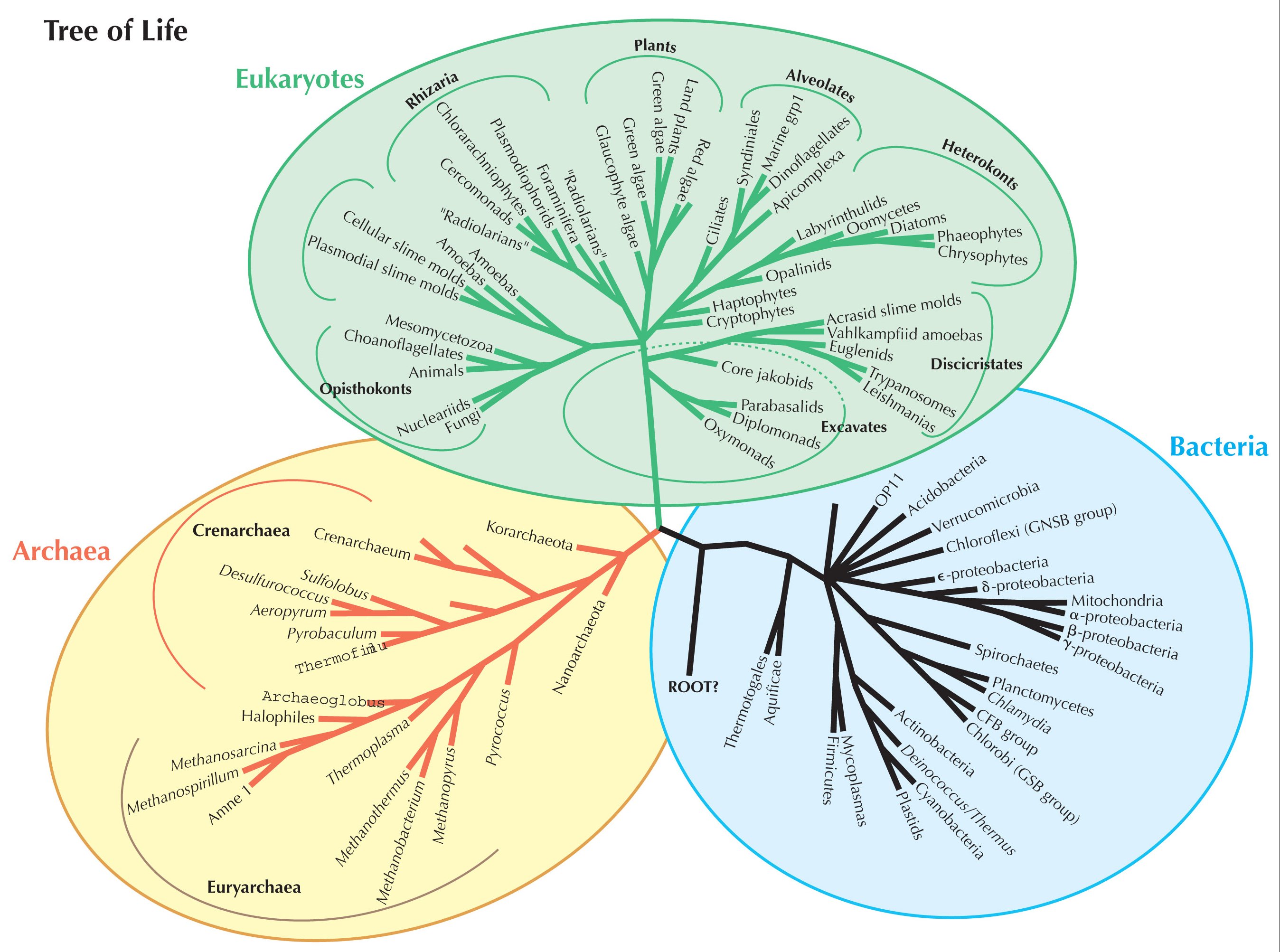 Mind you, the show on Fungi is worth listening to (although they did miss the opportunity to use the tree of life to answer a question that came up on "Are fungi from outer space?" - the answer should have been - "No, fungi are deeply embedded within the tree of life on this planet, so if life came from elsewhere, it was at the beginning of the origin of life").
Unfortunately, I could not call in to the show (as I have done before) to try and comment on these issues (since I was not listening live). So instead, I am giving Science Friday my Second "Twisted Tree of Life" Award for ignoring the new concepts of the tree of life that have been in play since Woese, Fox and others first laid the groundwork for the existence of the Archaea.
Posted: 02 Oct 2008 07:27 AM CDT
GoPubmed is a powerful new way to search the literature. As the name suggests, it is based on our old, familiar friend the Pubmed database but GoPubmed provides a whole new set of tools that will power-up your search.
After entering your search term into the search box at gopubmed.org, GoPubmed mines a vast array of information on your search term from Pubmed, including the Medical Subject Headings (MeSH) and Gene Ontology controlled vocabulary databases, then, uniquely displays it as links that allow you to drill down to the information that is most relevant to you.
As you can see in the image below, the links, which appear in the sidebar on the left, categorise the search results by relevant MeSH terms, gene ontologies, concepts, authors, journals, publication date and a whole lot more. By clicking on these you can narrow your search to the areas that you are most interested in.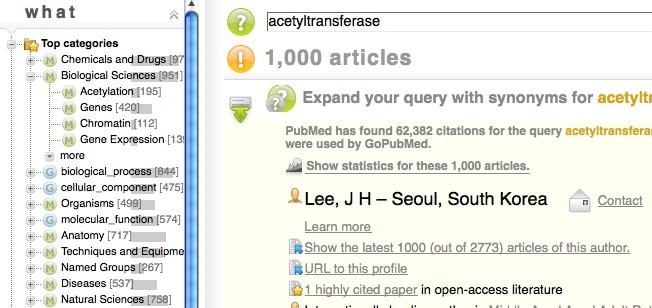 From the GoPubmed FAQ:
[Consider] the following question: Which biological process is the protein Rab5 involved in and where is it located in the cell? Type "rab5″ and wait for the tree on the left to appear. Have a look at the "Top categories What, Who, Where and When". A click on biological process shows endocytosis and clicking on cellular component shows endosome as answers for this question
This sounds simple- and it is -but the ability to easily narrow your search results allows you to get to the relevant information more quickly, and with so many ways to view your results you can be alerted to publications that you might not have come across otherwise.
This is the main feature of GoPubmed but by no means the only one. There are a whole load of nifty little features to explore and try out. Take a look at gopubmed.org
Melamine Contaminated Food List [Sciencebase Science Blog]
Posted: 02 Oct 2008 07:00 AM CDT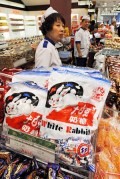 As this problem continues to roll along, here is a melamine contaminated food list plucked from the latest news results on the subject:
PREVIOUSLY: Melamine Scandal Widens and (2008-09-29) Milky Melamine.
Don't forget, you can use the Share button to email this article to your friends and contacts or to add it to your online bookmarks. You can also subscribe for free to the Sciencebase newsfeed to get updates via RSS or email.
Melamine Contaminated Food List
ABI Announces SOLiD v3.0. Weekend warriors rejoice. [SEQanswers.com]
Posted: 02 Oct 2008 01:35 AM CDT
Just finished up day 1 at the SOLiD users group meeting. Was a good meeting with both a look at AB R&D, and quite a few good customer presentations. The highlight for me (aside from the customer presentations) was hearing about the next version of SOLiD. Minor changes to the instruments liquid handling setup end up meaning major changes in hands-on time and overall run time. In addition longer frag and mate reads dramatically increase throughput. On the hardware side they are moving...
Read more and join the community...
Embracing change … and Japan [business|bytes|genes|molecules]
Posted: 02 Oct 2008 12:51 AM CDT
Last night, or was it this morning, I ranted about the unwillingness of bench scientists to try and make an effort to understand a little bit about the software being written to make their lives easier. I think I could have just pointed to Timo Hannay's wonderful talk entitled The Future is a Foreign Country (I can pretty much picture him giving it, but would love to see video).
In this talk, Timo touches upon his past, and then dives headfirst into a topic near and dear to all our hearts, the networked future (and present) of science. He talks about change, about accepting new realities, about embracing that which would seem to be foreign. What is important is not the specifics, but that message. You have to embrace worlds that might seem to be foreign. You don't have to master them. You don't even have to fit in. But you will be the better for it. Timo distills all this into a few bullet points
* Learn the language(s)
* Respect new cultural norms
* Suppress any sense of entitlement
* Work hard
* Listen, learn, adapt
I rest my case
Footnote
Another quote on a slide just above those bullet points really resonated
Unless we build it we won't know
Oh so true.
How to beat off a cold [Bayblab]
Posted: 01 Oct 2008 09:21 PM CDT
Summer is over, which means that cold and flu season is approaching with its stuffy sinuses and nasal congestion. But before you grab your Sudafed, or other pharmaceutical intervention, the journal
Medical Hypotheses
- always a gold-mine for unconventional ideas - has an article about an all-natural, drug-free way to relieve your symptoms: ejaculation.
As it is seen, ejaculation can be used as a potential treatment of nasal congestion because its emission phase provides a sympathetic stimulation and subsequent vasoconstriction and nasal decongestion. Also, the refractory period serves as a sympathetic reservoir and maintains the decongestive state for a considerable while. [...] According to the current idea, sexual intercourse or masturbation is proposed in the cases of nasal congestion in mature men. It can be done time-to-time to alleviate the congestion and the patient can adjust the number of intercourses or masturbations depending on the severity of the symptoms.
Keep it in mind next time someone with a head cold asks you for a tissue.
Midweek rant #201 [business|bytes|genes|molecules]
Posted: 01 Oct 2008 09:18 AM CDT
At a presentation that someone I know, a software developer, gave to an "omics" group, it dawned on this person that almost no one in there (outside of the software folk) knew what a schema was. That's troubling. Software people in any primarily wet lab group are expected to understand the science part, but people working in the lab are often clueless about the software side. How can they then appreciate the value of a relational database and how it might be making their lives easier? Also, in a data driven field, where so much data analysis is driven computationally, how is it that there is such little appreciation of good software engineering?
Image by Getty Images via Daylife
You are subscribed to email updates from The DNA Network
To stop receiving these emails, you may unsubscribe now.
Email Delivery powered by FeedBurner
Inbox too full? Subscribe to the feed version of The DNA Network in a feed reader.
If you prefer to unsubscribe via postal mail, write to: The DNA Network, c/o FeedBurner, 20 W Kinzie, 9th Floor, Chicago IL USA 60610