Soon Sci Foo! [The Seven Stones]
Posted: 25 Jul 2008 08:15 PM CDT
A last very quick post before going on vacation (Swiss Alps...). In two weeks I will have the great privilege to attend the mythic SciFoo 'un-conference' at the Googleplex in Mountain View, California. Many ideas of exciting sessions are already circulating. I would just like to add my support to Cameron Neylon's proposal for a discussion around the issue of building a 'Science Data Commons'. The availability and 'integrability' of scientific data represent probably some of the major challenges in scientific communication and, obviously, I would be excited to see if, from the discussions at Sci Foo, some ideas will emerge on how scientific journals can take concrete and pragmatic steps to help making scientific data readily available in a useful form.
Posting hiatus [Genetic Future]
Posted: 25 Jul 2008 07:08 PM CDT
Posting will be light to non-existent for the next couple of weeks.
Subscribe to Genetic Future
.
Attack of the Horny Peacock [evolgen]
Posted: 25 Jul 2008 06:15 PM CDT
Last month I mentioned that I had been in Barcelona at the Society for Molecular Biology and Evolution conference. I arrived in Spain early in the morning, and, after I got checked in to my hotel, I went with a couple friends to the Barcelona Zoo. This zoo is famous for housing Snowflake, the albino gorilla who lived at the zoo from the mid-1960s until he died in 2003. They still have an impressive collection of primates despite the loss of the zoo's icon.
Additionally, the zoo has a roaming band of peafowl. The peacocks and peahens have free reign of the grounds, and you'll often see them roosting in the trees. When we were there, the males were aggressively courting the females and letting out loud mating calls. I captured this photo of a peacock trying to impress a hen:
She would have none if it, though. Eventually, the peahen scurried into the bushes, and the peacock wandered off to find a hen that would be impressed by his massive train.
Read the comments on this post...
Hello from Singapore [Eye on DNA]
Posted: 25 Jul 2008 11:17 AM CDT
Yes, I'm still alive but barely. I've given birth to a baby girl and moved from London, UK to Singapore all in six weeks. Been keeping one eye on DNA during this time but can't say my brain was processing much. Hope to be back in the game next month. Meanwhile, keep calm and carry on!
Muddled Environmental Meddling [Sciencebase Science Blog]
Posted: 25 Jul 2008 07:00 AM CDT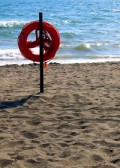 The idea of using carbon sequestration to reduce atmospheric CO2 levels has been bandied about for years, I vaguely recall writing about it when I first freelanced for New Scientist in 1990. It struck me then as a ludicrous approach to tackling climate change akin to sweeping the problem under the carpet. Now, a press release from another journal for which I once wrote on a regular basis, Chemistry & Industry (published for the UK's Society of Chemical Industry) is suggesting yet another madcap approach to climate.
The "open source" concept being put forward by cquestrate.com and reported in C&I suggests that we could reduce atmospheric CO2 levels and so ameliorate anthropogenic global warming by heating millions of tonnes of limestone in the world's deserts to release its locked in CO2, ship the resulting lime to the seaside and dump the rock into the oceans where it will apparently absorb twice as much dissolved CO2. It's backed by multinational petrochemical giant Shell.
Now forgive me for being uber skeptical but isn't there something just a little hypocritical about an oil company looking to macro scale chemical engineering to manipulate the environment. The C&I article quotes Tim Kruger, formerly of Shell, and now consulting on the project for Corven as mentioning Australia's Nullarbor Plain as being a prime location for the process. Lots of energy from sunlight to heat the abundant limestone to calcify it. And, presumably excess energy to sequester the huge volumes of CO2 released at source.
The mention of Australia reminds me of another particularly crass attempt by humanity to control the environment that went badly wrong - the cane toad. The cane toad was introduced into Queensland, Australia, en masse, in the 1930s in an effort to control the cane beetle that was ravaging the sugar cane industry. Of course, cane toads are now one of the most widespread and biggest pests in the region, with no obvious way of controlling their numbers, other than introducing an exogenous, but unidentified predator species.
I suspect that, overall, dumping lime
into
the oceans
will be as
successful as
dumping cane toads
into sugar cane plantationsdumping lime into the oceans will be as successful as dumping cane toads into sugar cane plantations. There will be unknown after shocks that will cause more harm to the environment and global ecosystems overall than anyone could predict.
First, off, there's the problem of what to do with the CO2 released from the limestone mined in the deserts that serves as the raw material for the process. Secondly, the huge tonnages involved are going to be so big that this project really will never work, especially as shipping all that lime from the desert to the oceans will require energy and release its own huge quantities of CO2 before dumping even begins. But, more than that there will be enormous, unforeseen environmental effects of dumping this material into the oceans on such a scale.
The idea of using even "stranded" energy to release CO2 from limestone, ship the limestone to the oceans, where it will apparently absorb dissolved CO2, has to be fundamentally flawed. There are issues of pH, absorbancy, equilibria, and marine ecosystems to consider. Surely, it would be simpler and more efficient to find a way to tap the stranded energy and supply it to population centres directly, thus cutting our dependency on fossil fuels without attempting to tamper with the oceans. Several macroscale engineering ideas have been bandied about and some, such as iron seeding and nitrogen control, have even been trialled, with little success and evidence of detrimental environmental impact. Let's not add lime to the list.
I interviewed Kruger for the August issue of Intute Spotlight in which I will cover this topic in more detail.
a
Muddled Environmental Meddling
Google vs Wikipedia? No! [ScienceRoll]
Posted: 25 Jul 2008 06:59 AM CDT
Google just launched its online encyclopaedia project, the so-called Knol. The whole blogosphere is talking about whether it can be a competitor to Wikipedia. Well, let's put it that way: no, it can't. An excerpt from their mission statement:
The Knol project is a site that hosts many knols — units of knowledge — written about various subjects. The authors of the knols can take credit for their writing, provide credentials, and elicit peer reviews and comments.

What if someone else has already written an article on that subject?

No problem, you can still write your own article. In fact, the Knol project is a forum for encouraging individual voices and perspectives on topics. As mentioned, no one else can edit your knol (unless you permit it) or mandate how you write about a topic. If you do a search on a topic, you may very well see more than one knol in the search results.
So I will have to find out which Knol is better. In Wikipedia, we merge different "Knols" into one article. So the readers can only see the best version. Doesn't it sound better?
I believe in the wisdom of crowds (maybe because I've been a Wikipedia administrator for years now). You can pay people to create you a database of information; you can let people fight who can come up with the better article. But it can never be as accurate as Wikipedia is.
Some interesting posts covering the same topic:
New Search Engines in Medicine [ScienceRoll]
Posted: 25 Jul 2008 06:17 AM CDT
While working on Scienceroll Search, the first personalized medical search engine, I wanted to show you two new engines.
InfoMedmd.com: InfoMedMD is an intelligent healthcare application which through a series of questions (infoMeds) provides you with personalized medical information specific to you and your symptoms.
Ologeez: Ologeez! is new and will require members to use it for a bit before the value of all this organizing becomes apparent. With enough usage and a large number of participants, this may become a new standard in life science research. (Via Medgadget)
Around The Blogs [Bitesize Bio]
Posted: 25 Jul 2008 05:17 AM CDT
It's time to look around those blogs again. On offer this week: The Tree of Science, a perfect Western at the first attempt and how to kill someone using an IPod Nano.
What can we learn from microbes? Elio at Small Things Considered comments on a talk he heard recently about Biomimicry, the invention of new technologies inspired by nature. A good example is Velcro, the invention of which was inspired by plant burrs that hitch a ride on animals. A fascinating field, but could microbes be a so-far untapped source of inspiration?, asks Elio
Another summer student?…. Kristi at Working the Bench neatly sums up the potential pitfalls of taking on summer students and suggests that an adjustment of priorities might help.
Where are you on the tree of science? Alex at The Daily Transcript asks us all to sign up to SciLink's Tree of Science, a project aimed at mapping how scientists are connected.
Western, (1st) Shot. The Black Knight at Life of a Lab Rat is really happy that his new grad student got a perfect-looking Western blot at her first attempt, no really - he is!
Oxygenation by bacteria? Alan at Microbiology Bytes highlights a very interesting paper on oxygen generation by microbes.
and finally…
Killer sounds. It's not science, but it's so bizarre that I had to include it. Benjamin at The World's Fair linked to a post by a former marine on 8 ways to kill someone with an IPod… number 6 is interesting:
6. Carefully unstaple a tea bag and pour the contents on a plate. Break into the lithium-ion battery pack and saturate the tea with the battery's poison, then dry the tea in the sun (or with a hair dryer if you are in a hurry). Put tea back in tea bag and bend the staple back to its original position. Put the tea bag back where you got it.
TGG Interview Series IX - Ana Oquendo Pabón [The Genetic Genealogist]
Posted: 25 Jul 2008 02:00 AM CDT

The ninth and final edition of the TGG Interview Series is with Dr. Ana Oquendo Pabón.  Dr. Oquendo Pabón is DNA and Historical advisor to the Lost Colony DNA and Research Group, and is an Administrator or Co-Administrator to numerous DNA projects.  Her bio is can be seen here.
In the following interview, Dr. Oquendo Pabón discusses her introduction to the field of genetic genealogy, her own experiences with genetic testing, and her thoughts about the future of genetic genealogy.  It's a terrific interview, so read on.
TGG: How long have you been actively involved in genetic genealogy, and how did you become interested in the field?
Ana Oquendo Pabón: I have been involved in genetic genealogy since very early in 2003. My brother and I have been traditional genealogists for about 28 years. Due to the excellent records on the island and hard research, we had long known all of our 64 grandparents except for one and all except 4 or 5 couples of our 128 ancestors. I had been keeping track of the news online concerning the "new science" and unique way of tracing your ancestral roots. I think everyone had heard about the Thomas Jefferson and Sally Hemmings story by that time. I had also read about a particular genealogist named Bennett Greenspan's own amazing quest to confirm his paternal DNA with an individual in Argentina and how he had started a genetic testing company to help others accomplish what he had done using yDNA. In 2003, I decided to give my brother a DNA kit as a combined birthday and anniversary present. We were among the first ten thousand genetic genealogy pioneers to take advantage of this new way of research. This spurred the idea of helping others in our field of expertise which was the genealogy of Puerto Rico and the Puerto Rican Project (Proyecto ADN de Apellidos Puertorriqueños) was born.
TGG: Have you undergone genetic genealogy testing?
AP: I initially had the mtDNA HVR1 + HVR2 in 2003 as well as the biogeographic test. Since then, I have had the complete mtDNA and all autosomal markers available. My brother has had 67 markers and SNP testing. My son, daughter, grandson and I also have had testing through SMGF.
TGG: Were you surprised with the results?
AP: Yes and no. As an admixed individual of European (mainly Spaniard), Taino and African cultures, I expected to find a tri-cultural diversity in my personal DNA. Yet, where one test did find African heritage, another found none despite a known slave in the fifth generation and in others. The test did however find that I was 24% East Indian which could only mean my indigenous ancestry.  The indigenous fact was definitely not a surprise since my ancestors had been on the island since the colonization but the high percentage was. Without a doubt, DNA can broaden our perspectives as to our ancestral origins and where to look further but it must go hand in hand with the traditional genealogy.
The greatest personal satisfaction to me is that by emphasizing mtDNA which was not even considered relevant to genetic testing as paternal yDNA Surname Projects of that time, we were able to make it an important aspect of our own project from the outset in 2003. Through mtDNA testing, we were able to dispel, one member Native American result after another, any notion of the complete extinction of  the people who first greeted Columbus to the New World. After five years of intense recruiting, we have proven through our project that our Taino and indigenous ancestry is very much present in our people in a very large way. In fact, we have one of the highest frequencies of indigenous ancestry ~62% of Haplogroups A, C, B and D for such a small geographic area. We have also been able to determine the DNA of many of the first Colonos and Criollos, the first Spanish Colonists and their descendants who intermarried with Taíno or indigenous women and of other European colonists and immigrants from the 16th century forward.
TGG: Did the results help you break through any of your brick walls or solve a family mystery?
AP: Through my personal mtDNA or my brother's yDNA, we have not. Neither of us has any exact high resolution matches. Since our mother was an orphan, and our father lost his father when he was three, our personal quest has been to determine the DNA signatures of our other lines through close relatives. In that way, we have been able to confirm our traditional genealogy and determine many of our other great great plus grandparents'  DNA.  In fact, of the 300 members in our Puerto Rican DNA Project, we are probably related to ~75 % either on the paternal or maternal side due to our island's geographic isolation during large periods of history and the high level of consanguinity and endogamy.
To date, we have confirmed through both traditional genealogy and DNA, our maternal mtDNA: L1c1a, paternal yDNA: E1b1a*, maternal grandfather: J2, mother's paternal grandmother: Haplogroup C, another maternal ggg grandmother: Haplogroup A, our 3rd, 4th, 5th, 6th, 7th and 8th maternal great grandfathers: E1b1b1 (E3b1), R1b1b2 (R1b1c), J1, R1b1, T (K2), J2a2 and our paternal great grandfather's R1b1. However, it takes time, knowledge of the history and connections bewteen families of the period, the genealogy of surnames of the period and not just your own and recruiting the correct individuals who themselves have well documented records.
TGG: You are also a DNA Project administrator.  What projects do you lead?
AP: I am Co  Administrator and Co Founder of the Puerto Rican DNA Project, Co Administrator of the Sepharad in Puerto Rico DNA Project, the Cape Coloured DNA Project and the Flores DNA Project. I am Administrator of the American Indian Q3 Project, Administrator and founder of the The African DNA Project, the Casa de España DNA Project and the Amerind Founder DNA Project. I also administer many yDNA Surname Projects.
TGG: You were recently named to the advisory board of the Lost Colony Center for Science and Research as the advisor for DNA and Historical Research.  Can you tell us a little more about the Center, including its goals and the progress that has been made so far?
AP: Due to a difference in focus and perspective, neither I nor any of the other previous board members are now associated with the Lost Colony Center for Science and Research.
We have formed the new Lost Colony DNA and Research Group and the Lost Colony DNA Project.  I assist on their board as DNA and Historical advisor especially as it pertains to Spanish records and Native American and African mtDNA. Our goal is to not only recruit individuals who may be posible descendants but to educate and help connect families in the Roanoke area by DNA testing. We also make available all sources and documents that will assist those with Lost Colony surnames or who belong to families of interest in their own research. This includes wills, deeds, land grants and any other type of document of that specific time period and forward. To that end, we have also begun making contacts with researchers in England to assist in finding relatives of Lost Colony families acroos the pond to have DNA tesing. This is a project which takes much dedication on the part of volunteers and which will be of considerable duration, requiring intense research and collaboration. We have an excellent group of genetic genealogists and researchers which includes Roberta Estes, Joe Chandler, Anne Poole, Jennifer Sheppard, Janet Crain, Rob Noles, Penny Ferguson, Nelda Percival and myself. We are fortunate to have researchers knowlegeable in archaelogical digs, the history of Roanoke Island and North Carolina in general, the Lumbee and other Native American tribes in the region.
The Lost Colony Site is at:
http://www.rootsweb.ancestry.com/~molcgdrg/rs/sur-coord.htm
and there is an excellent blog at:
http://the-lost-colony.blogspot.com/
TGG: What do you think the future holds for genetic genealogy?
AP: As more and more individuals read through the hype and wean through the misinformation that is sometimes perpetuated in the press, there are increasing numbers of everyday people realizing the value of genetic genealogy to their own traditional genealogical research. However, what is blatantly overlooked by the press is that it is through the diligence and persistence of genetic genealogists that the field is advancing so quickly. Genetic genealogists are from all walks of life but its ranks are also full of PhDs, MDs, biologists, physicists, chemists, sociologists, priests, ministers, rabbis, psychologists and many other disciplines. In other words, we understand the intricacies of explaining a non parental event to someone. We can refer to those who can better explain questions pertinent to a particular discipline. Indisputably, we as genetic genealogists share a common bond and that is to learn and educate while we search for our own ancestral roots. It is time to give credit where it is due. Sensationalism of genetic genealogy may dissuade some individuals from testing but it is through volunteer societies such as the International Society of Genetic Genealogists that individuals will find unbiased facts and obtain education on every aspect of the field.  The best part is that they will receive the information from individuals just like themselves who were once interested in learning what genetic genealogy holds for them and once stood in their shoes not knowing where to turn for answers.
Genetic Genealogists' own research into their own families has begun to bring invaluable genetic information to the attention of academics. Through the voluntary genetic genealogy testing in the private sector, has come the discovery of new SNPs helpful in reshaping the Y DNA Tree, has come the discovery of new mtDNA sequences and sub clades in mtDNA including the European, African and Native American groups. We, through voluntary testing are building and adding to the largest databases of genetic sequences available. With complete analysis through companies such as DeCode Me and 23 and Me, will come the knowledge and discovery of mutations which will eventually assist in the clues to finding cures to disease or the drugs to fight them. The continued and rising voluntary submission of complete mitochondrial genomes by genetic genealogists to Gen Bank is a boon and a readily accessible resource to population geneticists, medical geneticists, molecular biologists and other academics alike. The processing and analysis of those complete mtDNA genomes were obtained through just as or more stringent protocols as required in academia. Again, it is time to give credit where it is due: We are helping and are PARTNERS in this science. Politically, Genetic Genealogists are a viable, knowledgeable and formidable group who are the strongest advocates against the use of DNA for discrimination of any individual seeking health care or other insurance coverage because of their genetic ancestry.
Many of us, as parents and grandparents, are leaving our own genetic information for our children and grandchildren and to science for research and posterity
The time will come, sooner than later whereby every child will have their genetic makeup known at birth and the knowledge will be available to prevent any disease for which they may be at risk.
This will come through the help of genetic genealogists who one day, curious about their ancestors' genetic make-up, who their parents were and where they migrated from in more recent and in earlier generations , decided to to take a Q-tip and swab the inside of their cheek to learn how their DNA all came together in one place and time to form you and me.
TGG:  Thank you, Ana, for a wonderful interview!
View every interview in this fascinating series:
Interview Series VII - Katherine Hope Borges
Interview Series VIII - Max Blankfeld
Interview Series IX - Ana Oquendo Pabón
And, in conclusion, I would like to extend my appreciation to everyone who participated in this series.  I learned a great deal about the early roots of genetic genealogy, some of the individuals who have been involved from the beginning and along the way, as well as some thoughts about the future of genetic testing.
Prevailing theory of aging challenged in Stanford worm study [Think Gene]
Posted: 25 Jul 2008 12:06 AM CDT
Josh: Certainly this study needs to be repeated and verified by other parties, since the traditional understanding of aging is not so much the "rusting out" of cells, but rather, the irreparable damage of their DNA. Eukaryotic cells, like those in animals, have telomeres on the ends of the chromosomes. These telomeres shorten every time the cell divides, but an enzyme called telomerase makes them longer again. However, telomerase gets turned off, or at least gets very down regulated, as our cells mature and we age. Thus, the cells can only divide a fixed number of times before the telomeres disappear and DNA damage occurs. In almost all cancer cells, telomerase has been re-activated, allowing the cells to divide indefinitely.
Age may not be rust after all. Specific genetic instructions drive aging in worms, report researchers at the Stanford University School of Medicine. Their discovery contradicts the prevailing theory that aging is a buildup of tissue damage akin to rust, and implies science might eventually halt or even reverse the ravages of age.
"We were really surprised," said Stuart Kim, PhD, professor of developmental biology and of genetics, who is the senior author of the research. (more…)
Another missed Nobel [Omics! Omics!]
Posted: 24 Jul 2008 08:42 PM CDT
The newswires carried the story of Dr. Victor McKusick's passing today. McKusick was the first to catalog human mutations (as Mendelian Inheritance in Man, now better known as OMIM in its Online version), and can be truly seen as one of the founders of genomics. I won't claim to know his full biography, but compiling lists of human mutations way back when probably seemed like a bit of an odd task to a lot of his contemporaries.
This follows the
sudden passing of Judah Folkman
earlier this year in stealing from us a great light in biology, both of whom which the Nobel Committee failed to recognize.
Of course, there are only three Medicine awardees a year (sometimes the biologists sneak in on the Chemistry prize, but clearly McKusick & Folkman would have been in consideration for the Medicine prize). Nobel picking is a strange and unfathomable world. I'm not complaining about anyone unworthy getting it (though the Nobels have some serious closeted skeletons from the early days -- prefrontal lobotomies for all!), but it's too bad so many miss out who would deserve it.
You are subscribed to email updates from The DNA Network
To stop receiving these emails, you may unsubscribe now.
Email Delivery powered by FeedBurner
Inbox too full? Subscribe to the feed version of The DNA Network in a feed reader.
If you prefer to unsubscribe via postal mail, write to: The DNA Network, c/o FeedBurner, 20 W Kinzie, 9th Floor, Chicago IL USA 60610